The Dreamers **** (2003, Michael Pitt, Eva Green, Louis Garrel) – Classic Film Review 1018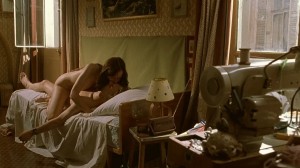 With the help of Gilbert Adair's sharp, provocative, intelligent and informative yet ultimately poignant screenplay, based on his own novel, director Bernardo Bertolucci returns to the scene of his Last Tango in Paris and this time reflects on young love, film-making and on the May 1968 Paris student riots.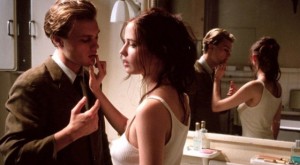 Michael Pitt stars as Matthew, a young American studying in Paris in 1968, who strikes up an oddball friendship with a teasing French twin brother and sister, Theo and Isabelle, played by Louis Garrel and Eva Green. They're a French poet's children, both film buffs, enjoying the good life in his grand Paris home while their parents are away for a month.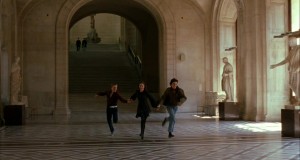 The twins kind of 'adopt' the modest, conservatively educated Californian student and immerse him in an indulgence of the senses. With the innocence of youth gone as a sexual threesome rocks their relationship, the exciting but harsh reality in the Paris streets impinges.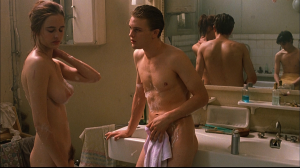 Bertolucci's movie is for everyone who loves cinema, especially French cinema, with the background of the riots economically but effective done, and the free, open, optimistic spirit of the age beautifully conjured up.
The sex scenes sizzle, and they're too hot for clips on You Tube.
French New Wave icon and Francois Truffaut's muse and alter ego Jean-Pierre Léaud appears as himself.
, age 66. He was also known for Love and Death on Long Island (1997) and Klimt (2006). Bertolucci didn't make another feature till Me and You in 2012.
http://derekwinnert.com/last-tango-in-paris-classic-film-review-377/
(C) Derek Winnert 2014 Classic Film Review 1018 derekwinnert.com
Link to Derek Winnert's home page for more film reviews: http://derekwinnert.com/