Little Buddha *** (1993, Keanu Reeves, Chris Isaak, Bridget Fonda, Ruocheng Ying, Alex Wiesendanger, Raju Lal) – Classic Movie Review 4190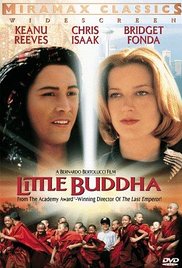 Director Bernardo Bertolucci's 1993 self-styled final chapter of his 'Oriental trilogy' combines a historical biography of Buddha and a lesson in Buddhism with a fictional story about the arrival in Seattle of a deputation of Tibetan monks.
Sorry to be irreverent about a heart-on-sleeve, well-meaning movie, but Keanu Reeves is is at his most miscast and ridiculous, wearing more makeup than Elizabeth Taylor in Cleopatra, after whom both his eye-liner and performance seem to have been patterned, as a youthful Prince Siddhartha who turns into Buddha.
Keanu's half of the story cannot really be called a success. But even less so can the present-day tale about the Tibetan monks' search for a child reincarnation of the `Enlightened One', who turns out to be Dean and Lisa Conrad (Chris Isaak and Bridget Fonda)'s 10-year-old son Jesse (Alex Wiesendanger).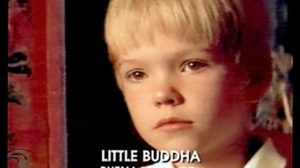 Ruocheng Ying plays Lama Norbu, who arrives in Seattle to find the reincarnation of his dead teacher, Lama Dorje, a search that leads him to Jesse and to Kathmandu waif Raju (Raju Lal) and an upper-class Indian girl, who all go to Bhutan for a test to prove which one is the true reincarnation.
Director Bernardo Bertolucci's earnest film is lavish, painstaking, glossy and amusing. And Vittorio Storaro's images and Ryuichi Sakamoto's score are splendid. But Little Buddha is not at all the distinguished, spiritually uplifting mystical-religious epic to inspire today's youth that Bertolucci obviously intended.
Jittery last-minute cutting reduced the running time from 153 minutes to 123 minutes. On a $35 million cost, it took only $4,850,000 in America.
© Derek Winnert 2016 Classic Movie Review 4190
Check out more reviews on http://derekwinnert