Summer Holiday ***½ (1963, Cliff Richard, Lauri Peters, Melvyn Hayes, Teddy Green, Jeremy Bulloch, Una Stubbs, The Shadows, Ron Moody, Lionel Murton, David Kossoff) – Classic Movie Review 3960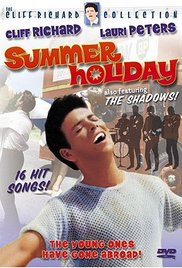 Director Peter Yates's 1963 traditional British wish-fulfilment fantasy musical is a lively and engaging vehicle for the 22-year-old Cliff Richard at the height of his popularity. It is pleasant and fast-moving, with catchy songs and amusing simple comedy.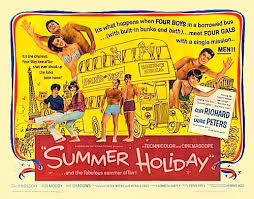 Cliff Richard jumps on an old Routemaster red double-decker bus with his buddies Melvyn Hayes, Teddy Green and Jeremy Bulloch to take a summer holiday from London to Athens. They play four London bus mechanics who make an unusual and advantageous deal with London Transport. If they do up a bus and drive it around Europe like a mobile home, they can own and be in charge of a fleet of buses.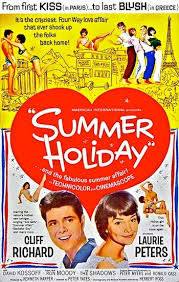 Along the bumpy way to Greece, Cliff picks up Una Stubbs, Pamela Hart and Jacqueline Daryl, falls for an absconding young American female singer stowaway (Lauri Peters), falls foul of her ambitious pursuing mother (Madge Ryan), dances and sings with The Shadows, and encounters eccentric acting turns from gleefully overplaying character actors Ron Moody (Orlando), Lionel Murton (Jerry) and David Kossoff (French magistrate).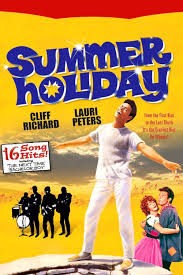 The American choreographer Herbert Ross brings the energy and exuberance that the dancing needs, so the numbers are exciting. Who'd have thought director Yates would go onto Bullitt and The Dresser?
The attractive songs include 'Summer Holiday' by Bruce Welch and Brian Bennett, 'The Next Time' by Philip Springer and Buddy Kaye, 'Dancing Shoes' by Bruce Welch and Hank B Marvin and 'Bachelor Boy' by Bruce Welch and Cliff Richard.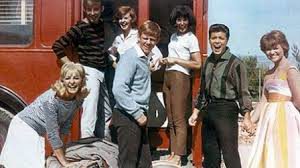 It is pleasingly escapist and carefree, and for long was iconic in Britain, though now it is pretty much forgotten. The Shadows are Hank B Marvin, Jet Harris, Tony Meehan and Bruce Welch.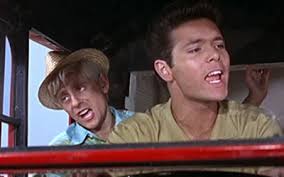 Also in the cast are Richard O'Sullivan, Wendy Barrie, Christine Lawson and Nicholas Phipps. It is written by Peter Myers and Ronald Cass.
Lauri Peters was married to Jon Voight (1962 – 1967, divorced) and created the role of Liesl Von Trapp in the original 1959 Broadway cast of The Sound of Music.
© Derek Winnert 2016 Classic Movie Review 3960
Check out more reviews on http://derekwinnert.com