The Dresser *** (1983, Tom Courtenay, Albert Finney) – Classic Movie Review 4079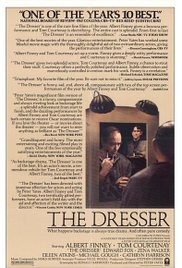 Director Peter Yates turns Ronald Harwood's 1980 hit play about veteran barnstorming-style ham Shakespearean actor-manager and his camp personal assistant dresser into a 1983 British film, with Harwood writing his own screenplay.
The story follows the dresser's attempts to get the ageing, unreasonably demanding actor struggles through a difficult performance of King Lear ('227 Lears and I can't remember the first line') as the repertory theatre company (The Coronet Players) struggles to carry on during the London Blitz.
The play worked perfectly on stage, but it becomes coarse, uncomfortable and repetitive as a film here. Tom Courtenay remains from the London West End and Broadway productions as the dresser, Norman, but sadly Albert Finney replaces Freddie Jones as the actor-manager, Sir, to give it more star power.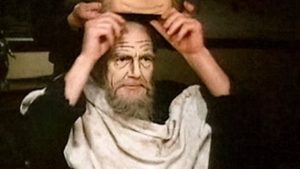 All in vain. It was not a hit and that is probably because the acting is just over-large for the screen, plus backstage films rarely succeed. Its place is the theatre where it comes from. Courtenay's performance as the effeminate personal assistant seems a bit rancid, though it's not really fault, it's the fault of the writing. It is good that the film has a gay lead character, but it's bad that he is an effeminate stereotype, though, to be fair, both Harwood and Courtenay humanise him and try hard to keep him sympathetic.
However, it is useful as an archive reminder of an acute character study, though, and the touring theatre background and atmosphere of wartime England are well handled. And the performances are good: unusually, both Finney and Courtenay received Academy Award Best Actor nominations for the film. And Finney won the Silver Bear Award for Best Actor at the Berlin Film Festival in 1984. There were three other Oscar nominations – Best Director and Best Adapted Screenplay, but it failed to win any Oscars.
Also in the cast are Edward Fox as Oxenby, Zena Walker as Her Ladyship, Eileen Atkins as Madge, Michael Gough, Betty Marsden, Lockwood West, Sheila Reid, Cathryn Harrison, Llewellyn Rees, Donald Eccles, Guy Manning, Kevin Stoney, John Sharp, Kathy Staff, Joe Ritchie, Ann Way, Sydney Arnold, and Anne Blackman [Hannion].
It was chosen as the 38th Royal Film Performance and screened at London's Odeon cinema on 19 March 1984.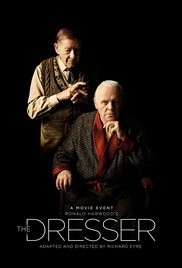 It was remade as a TV movie in 2015, with Anthony Hopkins, Ian McKellen, Emily Watson and Sarah Lancashire. Fox is in both films.
Harwood was renowned Shakespearean actor Sir Donald Wolfit CBE's dresser between 1953 and 1958. He based his play and screenplay on his experiences with Wolfit and his company, and on the the biography Sir Donald Wolfit CBE: His life and work in the Unfashionable Theatre. Wolfit has had bad press. At the time of the film's setting, the real Wolfit was around 40 and at the height of his considerable acting and personal powers, far from being elderly, ailing and forgetful like Sir.
© Derek Winnert 2016 Classic Movie Review 4079
Check out more reviews on http://derekwinnert