Star Wars Episode IV: A New Hope ***** (1977, Mark Hamill, Harrison Ford, Carrie Fisher, Alec Guinness, Peter Cushing, Kenny Baker, Anthony Daniels, Peter Mayhew, David Prowse) – Classic Movie Review 210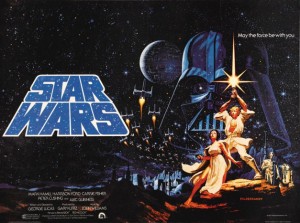 'A long time ago in a galaxy far, far away…'
'May the Force be with you.'
Star Wars blew like a breath of fresh air across cinema screens in 1977. Audiences were blown away being transported to another world, a universe far, far away. They hadn't seen anything like this yet. This was the movie sci-fi fans were waiting for.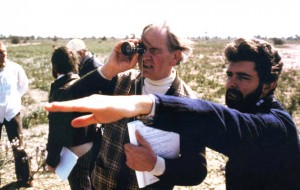 Writer-director George Lucas's jaw-dropping epic sci-fi adventure is tremendous, exuberant, old-style entertainment, conceived, assembled and delivered with the most enormous flair and imagination and played with the most extraordinary zest. The production is immaculate with astoundingly great special effects for their time, which, with the help of a little later tidy-ups in 1999 and 2004, still look awesome.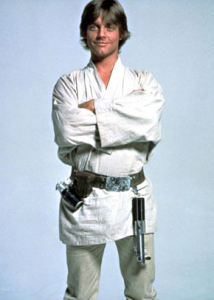 Mark Hamill stars as young farmboy Luke Skywalker, who rides across the universe to save it from the Empire's world-destroying battle station. Carrie Fisher plays Princess Leia, the Rebel leader whom Luke seeks to help escape the evil tyrant Darth Vader and the galactic Empire bad guys. Harrison Ford plays the cocky, daredevil pilot Han Solo, who assists Luke on his quest, along with his new droid buddies C-3PO (Anthony Daniels) and R2-D2 (Kenny Baker) as well as Chewbacca (Peter Mayhew) and Obi-Wan Kenobi.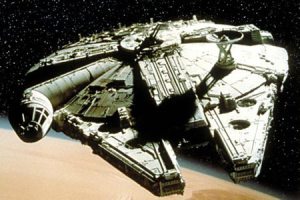 Full of the greatest joie-de-vivre, Hamill, Fisher and Ford are a delightful ensemble, giving infectiously vivacious performances. The older cast of Alec Guinness as Jedi knight master Ben Obi-Wan Kenobi, Peter Cushing as the villainous Grand Moff Tarkin, and the voice of James Earl Jones as Darth Vader provide the effortless scene-stealing asked of them. Kids love the rather too-cute robots, of course, though older teens and adults may find them irritating, the film's one downside perhaps.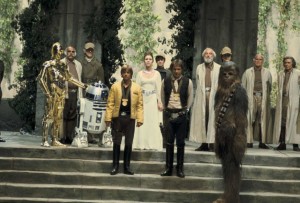 Made in Tunisia and at the UK's Shepperton and Elstree Studios, Star Wars was, of course, one of cinema's biggest-ever hits which put sci-fi finally definitely back on the movie landscape, got Ford's career going big time (though, surprisingly, not Hamill's nor Fisher's) and sold a million tickets and a billion toys. The merchandising spinoff was even bigger than the film.
The first sequels in the original trilogy were Star Wars Episode V: The Empire Strikes Back (1980) and then Star Wars: Episode VI – Return of the Jedi (1983). Three more sequels followed: Star Wars: Episode I – The Phantom Menace in 1999, Star Wars: Episode II – Attack of the Clones in 2002 and Star Wars: Episode III – Revenge of the Sith in 2005.
The seventh film, J J Abrams's Star Wars: The Force Awakens, was released on 18 December 2015. It stars newcomers John Boyega and Daisy Ridley, along with Adam Driver, Oscar Isaac, Andy Serkis, Domhnall Gleeson and Max von Sydow, as well as original cast members Mark Hamill, Harrison Ford and Carrie Fisher.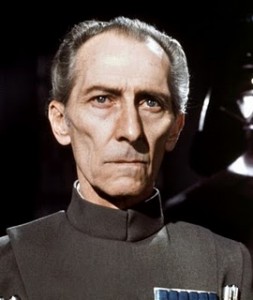 John Williams won an Oscar for his stirring, classic film music score, one of the film's six, all for technical achievements. Those were Oscars for Best Art Direction-Set Decoration (John Barry [Production Design], Norman Reynolds, Leslie Dilley [Art Direction], Roger Christian [Set Decoration]), Best Costume Design (John Mollo), Best Sound, Best Film Editing, Best Original Score, and Best Visual Effects (John Dykstra, John Stears, Richard Edlund, Grant McCune and Robert Blalack). There was also a Special Achievement Award for sound effects for the creation of the alien, creature and robot voices (a special award to Benjamin Burtt Jr).
Ironically, Lucas won nothing, though nominated as Best Director and for Best Original Screenplay. It failed to win Best Picture and Guinness was only Best Supporting Actor nominated. Shame! Williams won a Bafta and so did the sound. Mystifyingly, people must have thought it was a better sound experience than a visual one back then.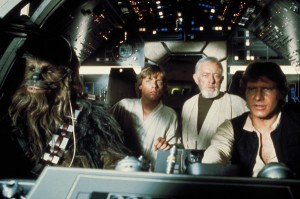 It was re-released to huge acclaim and new box-office success in a splendidly refurbished version by Lucas for its 20th anniversary in 1997, improving the sound and visual quality with a tiny bit of re-editing. This no doubt prompted starting up the new trilogy beginning with The Phantom Menace.
Peter Cushing: 'After the first day's work, I approached the director. "Dear fellow," I said, "do you think you could shoot me from the waist up from now on?" He consented kindly and I was allowed to stomp about looking very cross as Grand Moff Tarkin for the rest of the picture in carpet slippers.'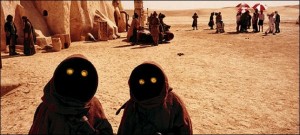 The Special Edition runs four minutes longer than the original at 125 minutes. It was just plain old Star Wars but it's now known as Star Wars Episode IV: A New Hope.
Before legendary cinematographer Gilbert Taylor died at 99 in August 2013, he said he'd much rather be remembered for his work on Dr Strangelove than Star Wars, which he recalled wasn't the most rewarding experience due to Lucas's 'uncommunicative ways'. Yet Taylor's vision is crucial to the entire Star Wars franchise, setting the visual tone for the whole saga.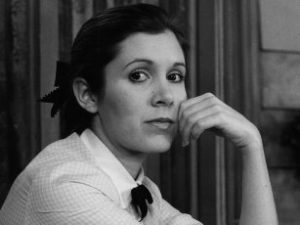 Beloved Carrie Fisher died on 27 aged 60, after suffering a heart attack on a plane.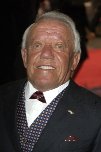 Kenny Baker, the 3ft, 8in actor who played beloved robot R2-D2 in the first six Star Wars films beginning with the 1977 original, died at his home on 13 August 2016 in Preston, England, after a lengthy illness, aged 81.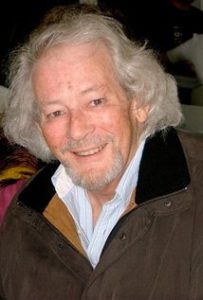 Australian actor Peter Sumner, who plays Death Star security officer Lt. Pol Treidum, died in November 2016, aged 74. He earned £60 a day for two days' work on the film.
Double Oscar-winning costume designer John Mollo died on 25 October 2017, aged 86. 'George [Lucas] liked the idea of the baddies having a fascist look about them,' he recalled.  He is remembered for his work on Star Wars: Episode IV – A New Hope (1977), Alien (1979), Star Wars: Episode V – The Empire Strikes Back (1980) and Gandhi (1982) – for which he won Best Costume Design shared with Bhanu Athaiya.
http://derekwinnert.com/the-empire-strikes-back-classic-film-review-30/
© Derek Winnert 2013 Classic Movie Review 210
Check out more reviews on http://derekwinnert.com/