Star Wars Episode V: The Empire Strikes Back ***** (1980, Mark Hamill, Harrison Ford, Carrie Fisher) – Classic Film Review 30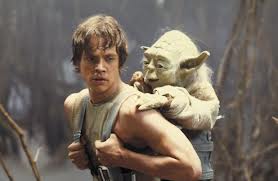 Hooray, the Star Wars saga continues with what was part 2 in 1980, but's now known as Star Wars Episode V: The Empire Strikes Back. Still looking impossibly young and energized, Mark Hamill, Harrison Ford and Carrie Fisher are very welcome back as Luke Skywalker, Han Solo and Princess Leia in this completely stonking and stupendous first sequel to the original first 1977 Star Wars: Episode 4 – A New Hope.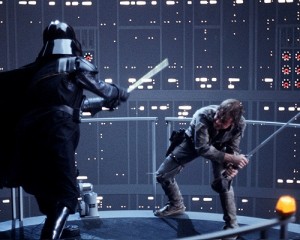 This time, Luke and the droid R2-D2 go to the swamp world of Dagobah, where Jedi master Yoda (voice of Frank Oz) gives Luke advanced lessons in how to be a Jedi knight and battle the evil Darth Vader (voice of James Earl Jones), who wants to seize him. Meanwhile The Rebel Alliance takes refuge on the frozen planet Hoth, pursued by Vader as part of his wicked and devilish plan.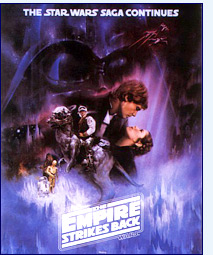 Ideally you should have seen the first movie, as the saga continues from where the first film left off. This one can boast the same virtues as the original: a dynamic plotline, pounding action sequences, rousing, winning performances, expert craftsmanship in the direction (by Irvin Kershner) and spectacular visual work (which won a Special Achievement Award statuette for Visual Effects at the 1981 Academy Awards).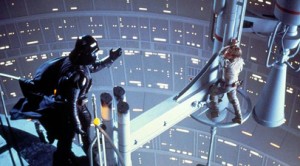 But possibly it's all done with a tiny bit more polish, confidence and elan this time. Oz's too-comical Yoda aside, there's a welcome bit more darkness, depth and characterisation on screen this time, and, maybe surprisingly, it's turned out to be many people's favourite Star Wars movie.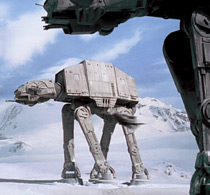 A man obsessed and completely taken over by his once-in-a-lifetime saga, George Lucas again provided the original story for what can only be judged a perfect fantasy action adventure. The screenplay is by Lawrence Kasdan and Leigh Brackett, who translate Lucas's vision into a living, breathing entity.
The 1981 Academy Award winner for Best Sound (Bill Varney, Steve Maslow, Gregg Landaker, Peter Sutton) and winner of a  Special Achievement Award statuette for Visual Effects (Dennis Muren, Bruce Nicholson, Richard Edlund, Brian Johnson). John Williams won the Anthony Asquith Award for Film Music at the Bafta awards.
Alec Guinness worked one day on the film, as Obi-Wan.
Principal photography took a record 171 days, with 64 huge sets built, and went $10million over budget.
Fisher allegedly stood on a box to film with Ford: she's a foot shorter.
Lucas very effectively restored and enhanced the film by in 1997 for re-release with much better sound quality, useful improvements to the special effects and three valuable extra minutes of unseen film, especially the new shots of the Millennium Falcon flying through Cloud City and new footage of the Hoth battle. The 2004 DVD release has several further revisions, including replacing Clive Revill with Ian McDiarmid as the Emperor, with new dialogue.
Next sequel: Star Wars Episode VI: Return of the Jedi.
http://derekwinnert.com/star-wars-episode-6-return-of-the-jedi-classic-film-review-214/
http://derekwinnert.com/star-wars-classic-film-review-210/
© Derek Winnert 2013 Classic Movie Review 30
Check out more reviews on http://derekwinnert.com/