Shakespeare Wallah **** (1965, Shashi Kapoor, Felicity Kendal, Geoffrey Kendal, Laura Liddell, Madhur Jaffrey) – Classic Movie Review 6357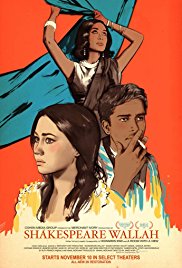 The marvellous Merchant-Ivory team established their style and reputation with director James Ivory's leisurely, gently ironic 1965 film study of a family troupe of English travelling players in India, based on the experiences of the family of Felicity Kendal (from TV's The Good Life) and her father Geoffrey Kendal during the final days of English colonial rule.
Felicity Kendal, getting an 'introducing' credit in her first film role, plays Lizzie Buckingham and Shashi Kapoor plays Sanju, the already involved playboy who is immediately attracted to her after he rescues the troupe, stranded after one of their vehicles breaks down.
The members of the troupe basically play themselves as The Buckingham Players, acting with a curious, appealing mixture of ham and sensitivity. The film is driven by the effective, straightforward direction by Ivory, and there is touching screen-writing by him and Ruth Prawer Jhabvala, based on her story.
Also in the cast are Laura Liddell (Geoffrey Kendal's wife), Madhur Jaffrey, Utpal Dutt, Prayag Raaj,  Jim Tytler and Praveen Paul.
The is also the first film of Jennifer Kapoor (playing Mrs Bowen), better known as Jennifer Kendal, sister of Felicity and daughter of actor Geoffrey. She married Shashi Kapoor in July 1958. She died from cancer at 50 in 1984.
It is shot in black and white by Subrata Mitra, and produced by Ismail Merchant, with an original score by Satyajit Ray.
In October 2017, Cohen Media Group announced a new 4K scan and restoration from the original camera negative and magnetic soundtrack, and featuring a new 5.1 audio mix from the stereo 35mm mags, approved by James Ivory. It was re-released in New York at Quad Cinemas on 10 November 2017.
Merchant Ivory Productions, founded in 1961 by producer Merchant and director Ivory, produced 44 films. Shakespeare Wallah is the film that put them on the international movie map.
RIP Bollywood legend Shashi Kapoor (18 March 1938 – 4 December 2017). His association with the Merchant-Ivory team began in 1963 with The Householder and continued with Shakespeare Wallah (1965), Bombay Talkie (1970), Heat and Dust (1983) and In Custody (1994).
© Derek Winnert 2017 Classic Movie Review 6357
Check out more reviews on http://derekwinnert.com