PT 109 ** (1963, Cliff Robertson, Ty Hardin, James Gregory, Robert Culp, Grant Williams) – Classic Movie Review 6244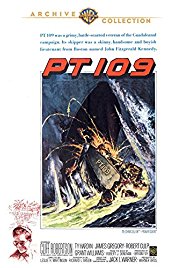 Cliff Robertson impersonates President, or rather Lieutenant, John F Kennedy in Leslie H Martinson's well-meaning but long, routine and stuffily handled 1963 World War Two biographical war film about JFK's youthful war adventures in the Pacific.
Based on the book by Robert J Donovan, the story tells how Lieutenant Kennedy takes command of the PT 109 boat of the title, fights the Japanese in the Solomon Islands, rescues US Marines and is involved in a crash with a Japanese destroyer.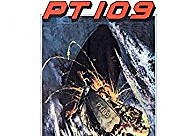 A rather bland and mediocre movie with such a good subject, it is just a boatload of old-fashioned, conventional flag-waving heroics, despite Robertson's valiant attempt to fill the central role. No rough edges or complexities emerge in Richard L Breen's rather bland screenplay. Maybe a major director might have pulled off a better movie, maybe not.
It also stars Ty Hardin as Ensign Leonard J Thom, James Gregory as Commander C R Ritchie, Robert Culp as Ensign George 'Barney' Ross, Grant Williams as Lieutenant Alvin Cluster and Robert Blake as Gunner's Mate Charles 'Bucky' Harris.
Also in the cast are Lew Gallo, Michael Pate, William Douglas, Biff Elliot, Norman Fell, Sam Gilman, Clyde Howdy, Buzz Martin, James McCallion, Joseph Gallison, Sammy Reese, Glenn Sipes, John Ward, David M Whorf, Errol John, Sam Gilman and George Takei.
It is shot by Robert Surtees, produced by Brian Foy, scored by William Lava, David Buttolph and Howard Jackson, and designed by Leo K Kuter.
Ty Hardin (aka Orison Whipple Hungerford Jr), TV's Bronco (1958 to 1962), died on 3 August 2017, aged 87.  He enjoyed a short but impressive hit film career with Merrill's Marauders (1962), The Chapman Report (1962), PT 109 (1963), Wall of Noise (1963), Palm Springs Weekend (1963) and Battle of the Bulge (1965).
© Derek Winnert 2017 Classic Movie Review 6244
Check out more reviews on http://derekwinnert.com