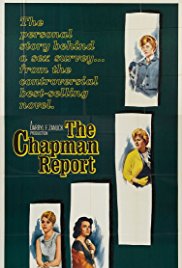 Director George Cukor's slick but superficial 1962 sex drama, inspired by the Kinsey Report, is based on the best-selling novel by Irving Wallace. It was nominated for four Golden Globes, including Best Motion Picture, Best Actress Drama (Glynis Johns), Best Supporting Actor (Harold J Stone) and Best Director.
Efrem Zimbalist Jr plays an Alfred Kinsey-style human sexuality research doctor who conducts a survey of female sexuality and the sexual mores of suburban women in this sleek, though surface-only drama, lifted by its sterling star performances.
The four Los Angeles women with various problems and hangups are bored housewife Sarah (Shelley Winters), nymphomaniac drunk Naomi (Claire Bloom), emotionally frigid young widow Kathleen (Jane Fonda) and faithless Teresa (Glynis Johns). Zimbalist Jr's Paul Radford pursues his research personally by becoming entangled with Fonda's Kathleen.
It is easy to sympathise with the women when there are men like Ray Danton, Ty Hardin, John Dehner, Andrew Duggan (as Dr Chapman) and Zimbalist around. The Chapman Report is amusing and entertaining in a brainless, kitsch sort of way, though presumably something of more quality and intelligence was intended. The film entirely belongs to the four main actresses, who own their roles in style. Johns has a very good time with Hardin's Ed Kraski.
Also in the cast are Henry Daniell, Corey Allen, Harold J Stone, Jennifer Howard, Cloris Leachman, Chad Everett, Hope Cameron, Roy Roberts and Jack Cassidy.
It is written by Wyatt Cooper and Don M Mankiewicz, shot by Harold Lipstein, produced by Darryl F Zanuck and Richard D Zanuck, scored by Leonard Rosenman and designed by Gene Allen.
Director Cukor claims his version of the film was cut about by producer Darryl F Zanuck.
For another take on Alfred Kinsey, see Kinsey (2004).
© Derek Winnert 2017 Classic Movie Review 6245
Check out more reviews on http://derekwinnert.com