Merrill's Marauders **** (1962, Jeff Chandler, Ty Hardin, Andrew Duggan, Peter Brown, Will Hutchins) – Classic Movie Review 6246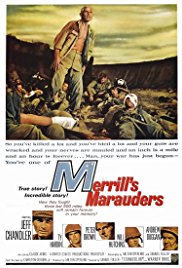 This first-class 1962 anti-war film from highly esteemed cult director Samuel Fuller is lustily done with lashings of bloody action. It is set in World War Two in Burma, where the 3,000-strong American unit, Merrill's Marauders, battle the Japanese.
TV stars Ty Hardin (as Secondnd Lieutenant Lee Stockton), Andrew Duggan (as Captain Abraham Lewis Kolodny MD), Peter Brown (as Bullseye) and Will Hutchins (as Chowhound) join with Jeff Chandler (in his last film) to bring home the horrors of war.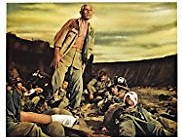 It is impressively photographed by William Clothier in Technicolor, finely acted by Chandler as Brigadier General Frank D Merrill, and very well handled by Fuller, who also co-writes the brisk and effective screenplay (with Milton Sperling), based on the book by Charlton Ogburn Jr.
Also in the cast are Claude Akins, John Hoyt, Luz Valdez, Charles Briggs, Jack C Williams, Chuck Hicks, Vaughan Wilson, Pancho Magolona, Chuck Roberson and Chuck Hayward.
It is produced by Milton Sperling, scored by Howard Jackson and designed by William Magginetti.
The prematurely gray Jeff Chandler died,aged only 42, from blood poisoning after an operation for a slipped disc on 17 
© Derek Winnert 2017 Classic Movie Review 6246
Check out more reviews on http://derekwinnert.com