Paul Temple Returns [Bombay Waterfront] ** (1952, John Bentley, Patricia Dainton, Peter Gawthorne, Valentine Dyall, Ronald Leigh-Hunt, Christopher Lee) – Classic Movie Review 4485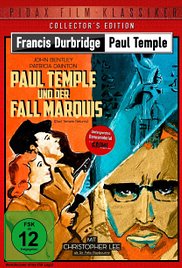 John Bentley again plays novelist-sleuth Paul Temple, who this time investigates, along with his wife Steve (Patricia Dainton), a series of gruesome murders by a mysterious serial killer known as The Marquis. Director Maclean Rogers drums up another pleasingly twisty and well-acted but rickety and cheap-looking thriller based on the 1942 radio serial Paul Temple Intervenes by Francis Durbridge.
This 1952 mystery movie proved to be the fourth and final Temple film, following Send for Paul Temple (1946), Calling Paul Temple (1948) and Paul Temple's Triumph (1950).
Dainton replaces Dinah Sheridan who played Steve in the previous two Temple movies.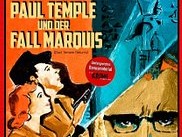 It also stars Peter Gawthorne as Sir Graham Forbes, Valentine Dyall as Superintendent Bradley, Ronald Leigh-Hunt as Inspector Ross and Christopher Lee as Sir Felix Raybourne.
Also in the cast are Ben Williams, Grey Blake, Arthur Hill, Robert Urquhart, Dan Jackson, Andreas Malandrinos, George Patterson, Sylvia Pugh, Dennis Holmes, Michael Mulcaster, Gerald Rex, Elizabeth Gilbert and Vi Kaley.
It is made by Nettlefold, distributed by Butcher's, written by Francis Durbridge, shot by Geoffrey Faithfull, produced by Ernest G Roy and scored by Wilfred Burns.
© Derek Winnert 2016 Classic Movie Review 4485
Check out more reviews on http://derekwinnert.com