Paul Temple's Triumph ** (1950, John Bentley, Dinah Sheridan, Barbara Couper, Hugh Dempster, Dino Galvani) – Classic Movie Review 4486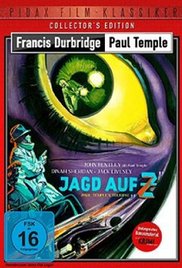 John Bentley effectively re-creates his role as novelist-sleuth Paul Temple in director Maclean Rogers's twisty low budget 1950 British mystery thriller based on Francis Durbridge's radio serial News of Paul Temple.
This time Temple, along with his glamorous wife Steve (Dinah Sheridan), investigates the murder of one of their friends and the abduction of the friend's father, a prominent atomic scientist. Then the Temples have to battle a sinister crime organization headed by a mysterious figure known as Z, in this nicely twisting and well-acted but shakily handled and all-too-cheap-looking Francis Durbridge thriller. Despite its humble status and faults, it is and acceptably entertaining and keeps moving briskly along in its short running time of 80 minutes.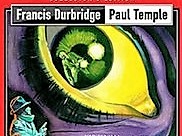 A sequel to Send for Paul Temple [The Green Finger] (1946) and Calling Paul Temple (1948), it is followed by Paul Temple Returns (1952).
Also in the cast are Barbara Couper, Hugh Dempster, Dino Galvani, Andrew Leigh, Jack Livesey, Jenny Mathot, Ivan Samson, Bruce Seton, Beatrice Varley, Shaym Bahadur, Michael Brennan, Peter Butterworth, Leo De Pokorny, Michael Hogarth, Hamilton Keene, Frederick Morant, Dennis Val Norton, Joseph O'Conor, Jean Packer, Gerald Rex and Ben Williams.
A Nettlefold Films production, released by Butcher's, it is written by Francis Durbridge and A R Rawlinson, shot by Brendan J Stafford, produced by Ernest G Roy and scored by Wilfred Burns.
© Derek Winnert 2016 Classic Movie Review 4486
Check out more reviews on http://derekwinnert.com