Once Upon a Time in the West ***** (Henry Fonda, Claudia Cardinale, Charles Bronson) – Classic Movie Review 140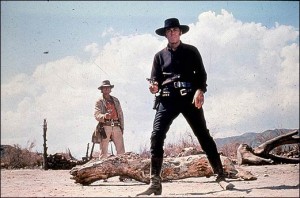 Complexly plotted, thrilling, vast in scale and visually breathtaking, Italian director Sergio Leone's epic masterwork C'era una volta il West (1968) is one of the cinema's greatest Westerns.
Henry Fonda is brilliantly against type as a cold-blooded gunman and gang boss called Frank, hired by the railroad to kill an American land baron whose property has the only local water supply. An actor spending so many years playing all-American heroes, Fonda gives a memorably chilling performance in one of the all-time great villain roles.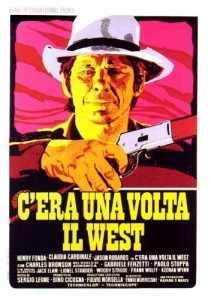 The dead man's widow, Mrs Jill McBain (Claudia Cardinale, at her most alluring), arrives in Utah to find her new husband and family wiped out. Jason Robards plays the innocent number one suspect, notorious desperado Cheyenne, who offers to help her track down the killer, Frank, with the help of a mysterious stranger called Harmonica (Charles Bronson), strangely enough so-called because of his habit of playing the harmonica. This music is playfully picked up in the score.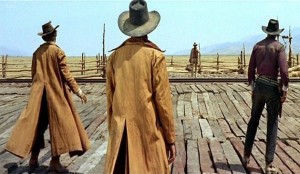 Leone, fresh from creating the Clint Eastwood Dollars trilogy (A Fistful of Dollars, For a Few Dollars More, The Good The Bad and The Ugly), puts his own personal, stylised spin on Once Upon a Time in the West by filming his violent, multi-stranded revenge story almost like it's stately grand opera. (Admittedly, there aren't many revenge Westerns in opera, but we'll let that pass.)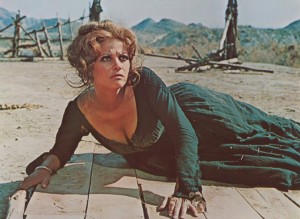 He's helped in this enormously by Ennio Morricone's inspired and glorious score, Tonino Delli Colli's stunning cinematography and Carlo Simi's startlingly beautiful art direction. These are the same personnel he gathered together for his final work in 1984, Once Upon a Time in America.
Among the star character actors most memorably helping out are Jack Elam and Woody Strode as members of Frank's gang, Snaky and Stony, Keenan Wynn as the sheriff and Lionel Stander as the barman.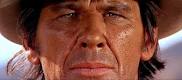 Italian big names Bernardo Bertolucci and Dario Argento had a hand in the story that borrows ideas from the 1954 Joan Crawford Western Johnny Guitar. Bertolucci's plan to feature a woman in the main role concerned Leone till Cardinale turned up on set. So often used just for eye candy, here she responds brilliantly to this huge part.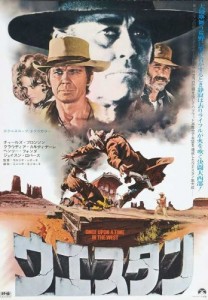 Sadly, this is another Leone film that was afflicted by studio hacking. It was mutilated by Paramount for American release and it flopped at the US box office. This way less than satisfactory cut version runs 137 minutes. However, the version shown abroad is 165 minutes and the full glorious print runs 175 minutes. Outside the US, it did well, so why did the Americans want to hack away at Leone's work?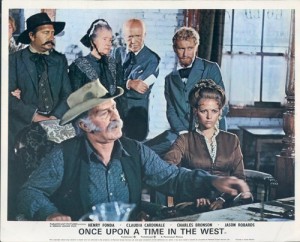 You've got to feel sorry for Leone. He got it so right, but his career was nearly destroyed by the studios. He died at only 60 in 1989, trying to get a new epic filmed, a co-production with the Russians on the siege of Leningrad. Still, his memorial is five brilliant Westerns and one great gangster movie.
http://derekwinnert.com/the-good-the-bad-and-the-ugly-classic-film-review-157/
http://derekwinnert.com/once-upon-a-time-in-america-classic-film-review-139/
http://derekwinnert.com/johnny-guitar-classic-film-review-378/
© Derek Winnert 2013 Classic Movie Review 140
Check out more reviews on http://derekwinnert.com/