Masquerade ***½ (1988, Rob Lowe, Meg Tilly, Kim Cattrall, Doug Savant, John Glover, Dana Delany) – Classic Movie Review 4395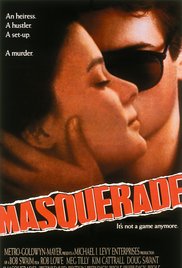 Rob Lowe stars as an insinuating creepy charmer in director Bob Swaim's smooth, slick and satisfying 1988 Hitchcockian neo noir thriller.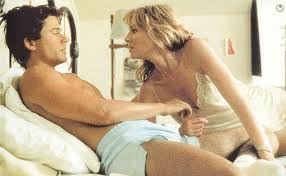 Lowe confidently takes on a Cary Grant-style role in an unofficial remake of Hitchcock's Suspicion (1941), in Dick Wolf's screenplay that tells the story of a magnetically handsome young playboy, yacht racing captain Tim, who marries a rich, mousey young woman (Meg Tilly), the recently orphaned millionairess Olivia, who hates her scheming stepfather.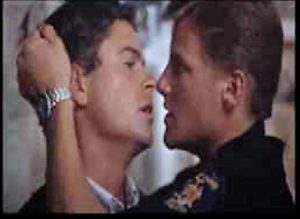 Unfortunately Tim is not truthful with the love-struck Olivia, and, what's more, he may or may not be planning to murder her.
Swaim's movie is a lightweight but extremely pretty looking and thoroughly enjoyable romantic thriller, beautifully photographed at the seaside near New York City. Lowe and Tilly make a lot out of roles that are fairly thinly sketched in a screenplay that, like Suspicion's, just does not get quite dangerous enough. But Masquerade is still sleek, sexy, slippery entertainment.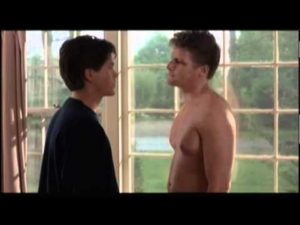 The young Lowe obligingly gets his kit off and looks cute as he makes love with Tilly and Kim Cattrall. This film was a good move for Lowe at the time, a more-adult step up and away from his earlier teen movies.
Also in the cast are Doug Savant, John Glover, Dana Delany, Erik Holland, Brian Davies and Barton Heyman.
© Derek Winnert 2016 Classic Movie Review 4395
Check out more reviews on http://derekwinnert.com