Jaws ***** (1975, Roy Scheider, Richard Dreyfuss, Robert Shaw, Lorraine Gary, Murray Hamilton) – Classic Movie Review 526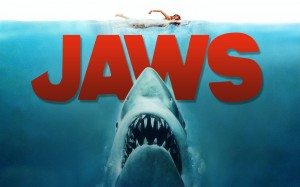 The triple-Oscar-winning 1975 monster movie classic that propelled the 28-year-old director Steven Spielberg to the front rank of cinema story-tellers is a sleekly crafted rollercoaster ride of fear, suspense and thrills. Based on the bestselling novel by Peter Benchley, the story is compelling, in-your-face stuff. Unusually for a horror movie, it was Oscar nominated as Best Picture.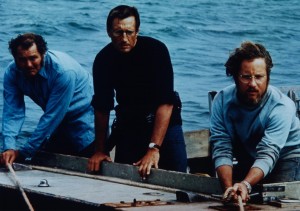 Roy Scheider stars as Sheriff Martin Brody, the new local police chief at the idyllic-seeming New England seaside resort community of Amity Island. But the island is terrorised by an attack by a deadly great white shark, and Brody discovers the remains of a shark attack victim but is talked out of closing the beaches to swimmers by the villainous mayor Larry Vaughn (Murray Hamilton). But that weekend a boy is killed by the shark and his mother offers a bounty to kill the shark and Amity is swamped with hunters and fisherman.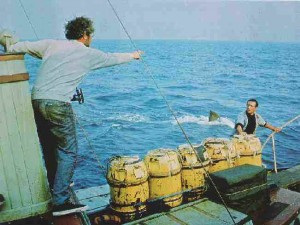 So Sheriff Brody teams up with young oceanographer marine expert Matt Hooper (Richard Dreyfuss) and old seadog Quint (Robert Shaw) to combine their forces and fight back against the predator in their little boat. 'We're gonna need a bigger boat.' Naturally, they get no help at all from the mayor, who's too busy keeping the truth quiet from happy vacationers to do anything about the peril of the deep.
Apart from the very plastic-looking shark, the film is extremely skilfully made, with outstanding performances, plenty of pace, lots of well-placed shocks, a frightening climax and a famous eerie classic score by John Williams that won one of the film's three 1976 Oscars for Best Original Score (along with Best Sound and Best Film Editing for Verna Fields).
Williams also won the Golden Globe for Best Original Score. The same awards year (1976), he won the Bafta for the forgotten score for The Towering Inferno.
None of the star cast was a first choice, but they are all absolutely ideal. More than that, they couldn't be better.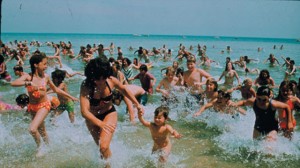 Writer Benchley has a cameo as a reporter on the beach. Massachusetts' Martha's Vineyard is the real-life location for Amity Island. Spielberg calls the shark Bruce, his attorney's name! The 130-minute TV version has several extra scenes.
Three sequels of diminishing quality followed: Jaws 2 (1978), Jaws III [Jaws 3D] (1983) and Jaws: The Revenge [Jaws 4] (1987), none of them directed by Spielberg.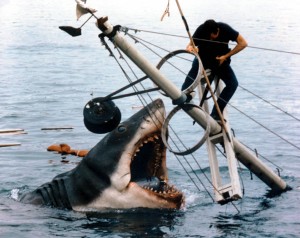 The 2000 25th Anniversary Edition features totally improved new sound effects, though the original won an Oscar for Best Sound (for Robert L Hoyt, Roger Heman Jr, Earl Madery and John R Carter ). For this edition, Spielberg considered re-shooting the much-criticised scenes with the very plastic-looking shark, but finally decided against it.
The film led to some American public hysteria: a beach in Southern California was cleared by lifeguards due to sharks in the water, but they turned out to be dolphins; and in Florida, an immature pygmy sperm whale that beached itself was beaten to death by bystanders who mistook it for a shark.
© Derek Winnert 2013 Classic Movie Review 526 derekwinnert.com
Check out more reviews on http://derekwinnert.com/