Casablanca ***** (1942, Humphrey Bogart, Ingrid Bergman, Paul Henreid, Claude Rains, Sydney Greenstreet, Conrad Veidt, Peter Lorre, S Z Sakall, Dooley Wilson, Leonid Kinskey, Marcel Dalio, Madeleine Lebeau) – Classic Movie Review 1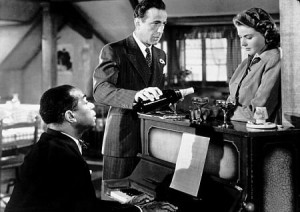 You must remember this: arguably, the world's best loved film and most perfect piece of cinema escapism. It didn't look like it would amount to a hill of beans in this crazy world when Warner Brothers announced in 1941 that they'd cast their B-list stock players Ronald Reagan and Ann Sheridan to star in a version of Murray Burnett and Joan Alison's unproduced play called Everybody Comes to Rick's. Later, and still unpromisingly, George Raft and Michèle Morgan were other possible stars.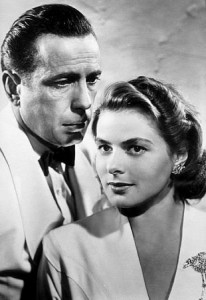 Even when it was finally recast as a romantic vehicle for Humphrey Bogart and Ingrid Bergman at their peak, it didn't look like things would turn out that well as they understandably hated working in the dark, uneasily acting with a constantly rewritten script that contained only each day's lines.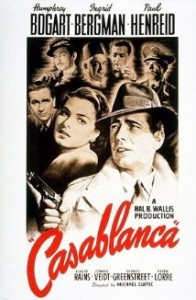 Nobody had worked out where the storylines were heading and how the film was going to end. Personally there was trouble too. Convinced an affair was raging, Bogart's wife Mayo Methot was wildly jealous of Bergman, upsetting and angering Bogart, who hardly spoke to Bergman, who was still learning English.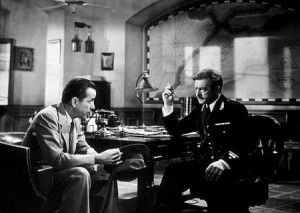 But, seventy years on, it's one of those few films so perfect that there's nothing you'd want to change. After all the heartache and hard work, it all seems effortlessly smooth, adding up to the rarest piece of elusive screen magic that comes from 90 per cent consummate professionalism and 10 per cent good luck.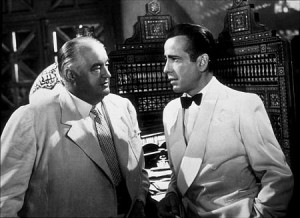 It's North Africa at the start of World War Two, and everybody comes to cynical old American Rick (Bogart)'s bar, including his old flame from Paris, Ilsa (Bergman), with her current flame, the Resistance leader Victor Laszlo (Paul Henreid), who together desperately need two letters of safe transit to America. 'Of all the gin joints in all the towns in all the world, she walks into mine!' says Bogart.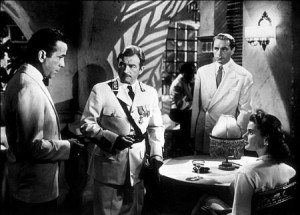 The fundamental things still apply: (1) a witty, playful script that cleverly balances cynical lines, tense drama, smouldering romance and heart-tugging moments (2) the sizzling star chemistry and great acting, backed up by the magnetic performances of the entire ensemble of great warner Bros studio contract players and (3) cunning director Michael Curtiz's wily handling, in turns sensitive, imaginative and astute.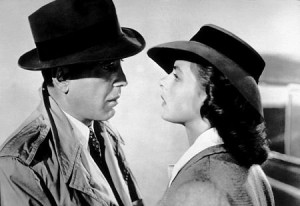 Magic as Bogart and Bergman are, Casablanca wouldn't weave its spell at all without the backup team, the best in business in 1942, maybe the best ever. Claude Rains is wonderfully silky as the poor corrupt official Captain Renault ('I stick my neck out for nobody'). Sydney Greenstreet is splendidly sweaty as black-marketeer and rival bar owner Signor Ferrari. Peter Lorre is marvellously shifty as racketeer Ugarte. Conrad Veidt is suitably sinister as the German Major Strasser.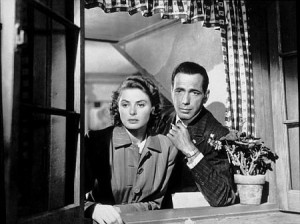 All the while non-pianist Dooley Wilson indelibly pretends to tinkle the ivories as piano player Sam who sings Herman Hupfeld's 1931 Broadway show Everybody's Welcome song As Time Goes By for Bogart ('You played it for her, you can play it for me… play it Sam, play As Time Goes By'). And Leonid Kinskey plays the role he is fondly remembered for – Sascha the 'crazy Russian', the ingratiating barman at Rick's Café Americain.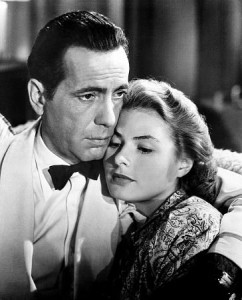 The movie was a critical and box-office sensation and an instant classic, winning 1943 Oscars for best picture, director and screenplay with five other Oscar nominations for best actor (Bogart), support actor (Rains), cinematography, editing and music. And as time goes by it just seems to get better and better with age and more and more popular.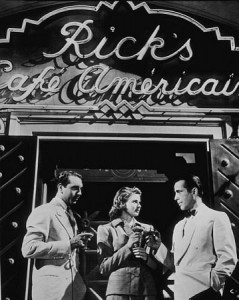 Is there any movie that has a more heart-rending climax than this? Does any movie have more quoted lines than this? Still the perfect date movie, this could be the start of a beautiful friendship. Here's looking at you, kid!
Rains finished work on Now, Voyager on June 3 1942 and filmed his first scene on Casablanca at 10:30 the next morning.
The cast is Humphrey Bogart, Ingrid Bergman, Paul Henreid, Claude Rains, Sydney Greenstreet, Conrad Veidt, Peter Lorre, S Z Sakall, Dooley Wilson, Leonid Kinskey, Marcel Dalio, John Qualen, Ludwig Stossel, Helmut Dantine, Monte Blue, Madeleine Lebeau, Curt Bois, Joy Page, Ilka Gruning, Louis V Arco, Leon Belasco, Trude Berliner, Oliver Blake, Gino Corrado, Franco Corsaro, George Dee, Jean Del Val, William Edmunds, Martin Garralaga, Gregory Gaye, Creighton Hale, Olaf Hytten, Charles La Torre, George J Lewis, Michael Mark, George Meeker, Louis Mercier, Torben Meyer, Alberto Morin, Leo Mostovoy, Corina Mura, Lotte Palfi Andor, Paul Porcasi, Frank Puglia, Georges Renavent, Dewey Robinson, Henry Rowland, Richard Ryen, Dan Seymour, Gerald Oliver Smith, Norma Varden, Hane Heinrich von Twardowski, Leo White and Wolfgang Zilzer.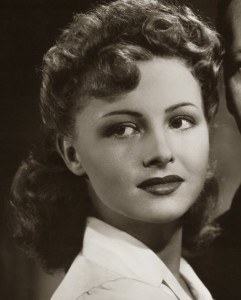 The last surviving credited cast member Madeleine Lebeau died on 1 May 2016 in Spain. She plays Bogart's jilted mistress Yvonne, who gets teary when La Marseillaise is played and shouts 'Viva la France!'.  She also starred as Madeleine, the French actress, in Fellini's 8½ [Otto e Mezzo] (1963).
LeBeau was among several Casablanca cast members who were actually refugees from the German occupation. She fled Paris for Portugal and eventually the US with her actor husband Marcel Dalio, who plays Emil the croupier. He filed for divorce during the production.
http://derekwinnert.com/now-voyager-classic-film-review-636/
© Derek Winnert 2013 Classic Movie Review 1
Check out more reviews on http://derekwinnert.com/