The Phantom of the Opera ***** (1925, Lon Chaney Sr, Mary Philbin, Norman Kerry) – Classic Movie Review 75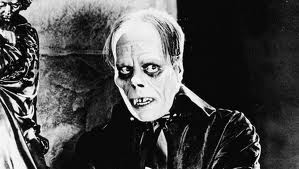 'If you love me as you say you do, will you let me go? I promise to be your slave forever,' Christine tells The Phantom.
Lon Chaney Snr stars in his most famous role as The Phantom, the masked, deformed, crazed musician who lures sweet ingénue opera diva Christine Daae (Mary Philbin) to his subterranean lair in the catacombs deep down beneath the Paris Opéra. This deservedly celebrated and wonderfully stirring 1925 silent classic gleefully captures the gothic spirit of the renowned novel Le Fantöme de l' Opéra by Gaston Leroux it's based on.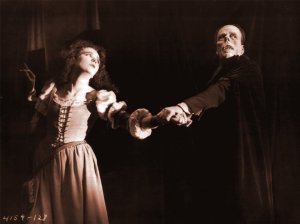 The Phantom is obsessed with the lovely Christine and tries to help her career by putting out of action the theatre's famous star singer Carlotta (Virginia Pearson) so Christine can have her chance by taking over her role in Faust. Eventually he takes Christine to his little nook and keeps her prisoner but finally a rescue team may be after them.
Universal Studios' magnificently lavish production under Carl Laemmle – with its eye-popping visuals, fragrant flavour of the old-time theatre and amazing, vast sets – was the inspiration behind Andrew Lloyd Webber's musical version and its designs.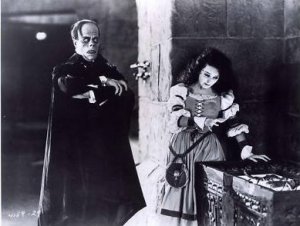 Director Rupert Julian (and Edward Sedgwick)'s essential horror film is a dazzling showcase for one of the great movie monsters and still provides superb scares and gloriously eerie moments. Wrapped up in his self-devised skull-look horror makeup, Chaney's startling performance ranks among his finest. It's one of silent movies' most enduring and entertaining turns.
The thrilling masked ball sequence was beautifully filmed in two-tone Technicolor and is still an incredible eyeful. On the arrival of sound, the actors re-recorded the 1929 talkie version (which runs 89 minutes) with new footage (directed by Ernst Laemmle) and dialogue for about a third of the movie, with the same cast apart from Edward Martindel substituting for John Sainpolis as Comte Philippe, and Mary Fabian taking over (and singing) as Carlotta with Virginia Pearson now as her mother.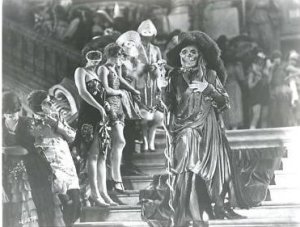 The silent version was gloriously restored by Britain's TV Channel 4 in an exquisite print in 1996, with the Technicolor sections discovered or re-created plus spot colour and tinting added by computer, revealing the masked ball as breath-taking and Chaney Sr's climactic appearance in a red cape on the Opéra roof exhilarating. The colour helps enjoyment enormously and this version is a triumph.
Thanks to Chaney Sr, the evergreen romantic horror story and Charles D Hall's amazing set designs, this brilliant silent movie has worn extremely well indeed and is a glorious survivor of a bygone age whose mysteries are sometimes hard to unlock.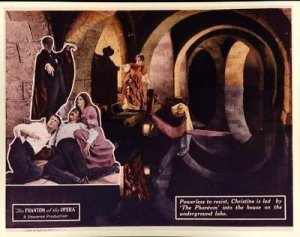 Sedgwick took over direction of a few scenes when Julian, who didn't see eye to eye with Chaney Sr, quit after rows with cast and crew.
At least seven sound versions followed, some for TV – 1943, 1962, 1983, 1989, 1990, 1991, 1998 – before Andrew Lloyd Webber's musical version was filmed in 2004.
© Derek Winnert 2013 Classic Movie Review 75
Check out more reviews on http://derekwinnert.com/