Dr No ***** (1962, Sean Connery, Ursula Andress, Joseph Wiseman, Anthony Dawson, Bernard Lee, Lois Maxwell, Eunice Gayson, Zena Marshall, Jack Lord) – Classic Movie Review 208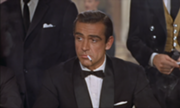 007 makes his epoch-making debut in 1962. A fresh-faced, youngish-looking, lean and lithe Sean Connery (aged 32) makes his début confidently and charismatically in the role he'll always be remembered for of smiling womaniser and grim-faced cold-blooded British spy in the first James Bond movie thriller. It's still one of the finest in the whole series.
Rising like Venus from the waves, Ursula Andress is stunning as Honey Ryder who becomes accidentally embroiled in the espionage crossfire, while Joseph Wiseman is chilling as the first Bond villain, the oriental arch-nemesis Dr No, who sets out for world domination. The unwanted child of a German missionary and a highborn Chinese girl, Dr No rose to be treasurer of a Chinese Tong, but fled to America with $10 million of their gold. An engineer, he designed his own HQ. He's now working for SPECTRE.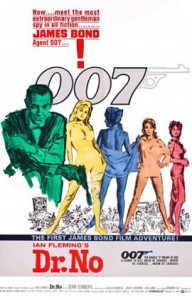 The CIA, led by agent Felix Leiter (Jack Lord) are on the case and so is Bond, James Bond, who's sent to Jamaica to sort things out after a fellow Brit agent is murdered.
The movie's low budget of only $1million means it relies a lot on its sharp script and the development of its fascinating characters, but there's a shedload of the later trademark explosions, stunts, fast cars and gadgets to enjoy too.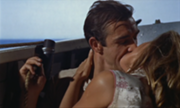 Director Terence Young stages the action with very considerable, brisk flair in a serious-minded thriller that refreshingly entirely lacks the kitsch appeal of many of the later movies. It helps a lot that he Jamaican locations and Ken Adam's exemplary designed studio interiors look so startlingly eye-catching. Stanley Kubrick hired Adam for Dr Strangelove on the strength of his work here.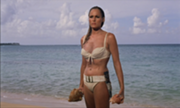 Dr No's mix of sex, violence and humour may seem a shade mild now but it's still very effective and it provides the perfect blueprint for every other film in the rest of the impossibly long-running series. Maurice Binder's titles set an inescapable style for the entire franchise and so do Monty Norman's score and famous Bond theme.
These were the serious days when Bond could lay in wait for a killer, Professor Dent (Anthony Dawson, the hired killer in Dial M for Murder), and then just shoot him in cold blood. Bernard Lee and Lois Maxwell are already in place as spy boss M and secretary Miss Moneypenny, (though not Desmond Llewelyn, who's missing as armourer Q).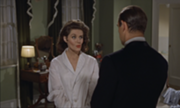 Eunice Gayson makes history as the first Bond girl as Sylvia Trench. She was supposed to play Moneypenny but switched roles with Maxwell. They enjoy a historic exchange over a casino game of chemin-de-fer, as Bond wins.
Bond: 'I admire your courage, Miss…'
Sylvia Trench: 'Trench. Sylvia Trench. I admire your luck, Mr…'
Bond: 'Bond. James Bond.'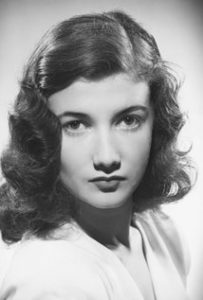 Zena Marshall plays Eurasian double agent Miss Taro, one of the most iconic of Bond villainesses, and also makes history as the first woman to be seduced by Connery's 007.  Their bedroom scene took three days to shoot when Marshall had a problem with having to spit in her co-star's face after Bond has turned Taro over to the superintendent of police.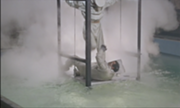 It was made both on location in Jamaica and at Pinewood studios, though the few studio back-projected exteriors acceptable enough in their day now seem to give it a phoney look that spoils the realism effectively achieved elsewhere.
Dr No to Bond: 'Unfortunately I misjudged you – you are just a stupid policeman whose luck has run out.'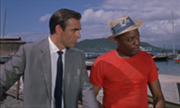 Sell line: 'Now meet the most extraordinary gentleman spy in all fiction – James Bond, Agent 007' (a modest claim). Supposedly, producer Albert R 'Cubby' Broccoli offered Mr Universe muscleman Steve Reeves $100,000 to play Bond, less than half his customary fee. That didn't happen of course and the part finally went to a man who had come third in a Mr Universe contest. Broccoli was impressed by Connery's performance in Darby O'Gill and the Little People and especially his fight with a village bully in it.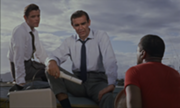 Broccoli was after the style of North by Northwest for the movie and offered the Bond role to Cary Grant. Noel Coward also refused to take part ('Dr No? No! No! No!').
Ian Fleming reputedly called it 'dreadful, simply dreadful'. Ah, well.
http://derekwinnert.com/goldfinger-classic-film-review-403/
© Derek Winnert 2013 Classic Movie Review 208
Check out more reviews on http://derekwinnert.com/