Dial M for Murder ***** (1954, Ray Milland, Grace Kelly, Robert Cummings, John Williams, Anthony Dawson) – Classic Movie Review 82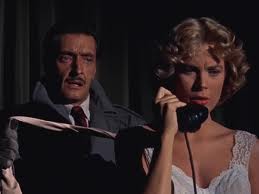 Alfred Hitchcock devises in 1954 what could be studied at film schools as a template for how to film a hit theatre play. Taking only 36 days to film it, Hitchcock transforms Frederick Knott's once-famous 1952 single-set stage mystery thriller into a sizzlingly tense, cynical, wryly humorous and thoroughly enjoyable movie.
It's even better in the 3D Hitchcock that filmed it in, with all its quirky low-angle shots and weird close-ups of atmospheric foreground objects. Amusingly, the film starts with a giant finger dialling the letter M on a giant, old-style prop dialling phone.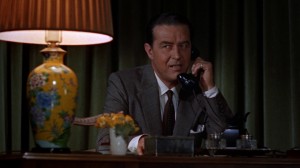 An ideally cast Ray Milland is on his best form, creepily overconfident and super-1950s-seedy as the ageing former tennis player Tony Wendice who has murder in mind for his gorgeous wife Margot (Grace Kelly), when he blackmails a seedy crook Captain Lesgate (Anthony Dawson), who was at college with him, into helping bumping her off. He's fed up with her and now simply wants to inherit her fortune.
The plan is that the crook's going to do the dirty deed while old Milland is establishing an alibi with his chums elsewhere. He will even phone her and hears her screams of death as she goes. Now that's really creepy and evil, don't you think?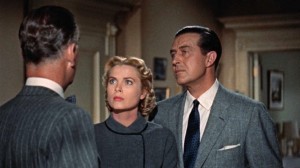 Naturally the best laid schemes of mice and men often go wrong (or, in Robert Burns's original Scottish, the best laid schemes o' mice an' men gang aft a-gley) and here they soon go wrong. But the resourceful Milland quickly comes up with a perfect plan B.
All well and good, that is until Margot's nice American novelist chum Mark Halliday (Robert Cummings) turns up and starts snooping around, and so does an old British smoothie, chief inspector Hubbard of the Yard (John Williams). The unfaithful Margot has had a brief fling with Halliday. You can't really say Tony and Margot are happily married, can you? Margot had written love letters to Halliday and one had survived and led to blackmail.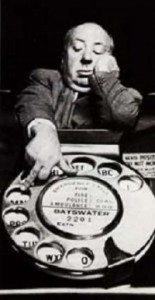 Then, Halliday, Hubbard a tricky mix-up with the house keys all combine to get in the way of would have been a perfect murder. But can Milland still get away with it? It looks as though he can.
Knott's play is very resourceful, keeping up the tension throughout, with plenty of incident, fun characters and amusing dialogue. Hitchcock, evidently enjoying the material, brings out the best in it all. All five actors are exactly right for the movie, working ultra-hard to please the ever-demanding Mr Hitchcock.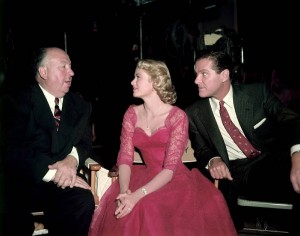 How the sadistically-inclined Hitchcock must have enjoyed making the icy blonde Grace Kelly, dressed only in her nightie, lose her cool in the nail-biting scene when she is attacked from behind the curtains and retaliates with a pair of scissors! This sequence is a little marvel in 3D. Hitch also clearly relishes the technical challenges of filming in a restricted space and using the 3D cameras, and, despite the clunky technology of the day, does it with considerable style and panache.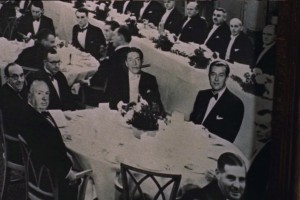 Hitchcock, who makes his customary cameo by appearing on the left in Milland's wall-mounted reunion photo, said: 'I did my best to avoid going outside. I even had the floor made of real tiles to get the sound of the footsteps. What I did was to emphasise the theatrical aspects.'
[Spolier alert] He said of the scene where Margot stabs Swan with the scissors: 'This is nicely done but there wasn't enough gleam to the scissors, and a murder without gleaming scissors is like asparagus without the Hollandaise sauce – tasteless.'

Filmed both flat and in 3D, it was released briefly in 3D but not seen again in 3D till a 1980 release and finally again in 2013 spruced up and digitalised.
Dawson and Williams re-create their stage roles as Chief Inspector Hubbard and Captain Lesgate from the original Broadway production that opened at the Plymouth Theater in New York on 29 October 1952 and ran for 552 performances. Maurice Evans played Tony Wendice.
It was remade for TV in 1981 and reworked as A Perfect Murder in 1998.
http://derekwinnert.com/a-perfect-murder-classic-film-review-109/
© Derek Winnert 2013 Classic Movie Review 82
Check out more reviews on http://derekwinnert.com