Do Not Disturb ** (1965, Doris Day, Rod Taylor, Sergio Fantoni, Hermione Baddeley, Reginald Gardiner, Maura McGiveney) – Classic Movie Review 6078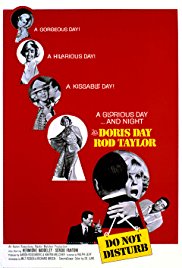 Director Ralph Levy's fairly daft but bright enough 1965 farcical comedy of gentle misunderstandings successfully teams Doris Day with Rod Taylor.
Based on William Fairchild's play Some Other Love, it is a frothy marital mix-ups comedy romance, in which American wife Janet Harper (Day) goes to London with her husband Mike (Taylor) for Mike's work, and overdoes the home-making at their inconvenient rented house 30 miles from London in Kent. So Mike often stays in one of the company's London apartments instead of going home and turns to his attractive secretary/ assistant Claire Hackett (Maura McGiveney) for innocent comfort.
Meanwhile, Day thinks Taylor is having an affair with the secretary. So Day retaliates by pretending she is being unfaithful, but actually has an equally innocent time in Paris with antiques dealer Paul Bellasi (Sergio Fantoni), upsetting Taylor.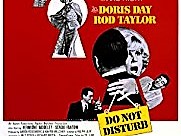 The screenplay by Milt Rosen and Richard Breen ekes out the jokes too sparingly but the ones you can find are fair. The playing is likeable and there are pretty second unit views of both European capitals for those who like picture postcards from abroad. The film is set in Europe but typically shot in Los Angeles on the 20th Century Fox back lot.
The gowns are gorgeous and Day sings the deliciously silly 'Au Revoir Is Goodbye with a Smile' (lyrics by Bob Hilliard, music by Mort Garson), as well as the title track (lyrics by Mark Barkan, music by Ben Raleigh .
Also in the cast are Reginald Gardiner, Hermione Baddeley, Leon Askin, Aram Katcher, Lisa Pera, Michael Romanoff, Albert Carrier, Barbara Morrison and Pierre Salinger.
It is shot in widescreen by Leon Shamroy, produced by Aaron Rosenberg and Martin Melcher, and scored by Lionel Newman.
The stars reunited for The Glass Bottom Boat (1966).

English actress Maura McGiveney came to Hollywood and debuted in an uncredited role as an attendant in Alfred Hitchcock's North by Northwest (1959). She was Golden Globe nominated as Most Promising Newcomer of 1966 for Do Not Disturb but died of cirrhosis of the liver on 10 November 1990 at the age of 51.
© Derek Winnert 2017 Classic Movie Review 6078
Check out more reviews on http://derekwinnert.com