The Glass Bottom Boat *** (1966, Doris Day, Rod Taylor, Arthur Godfrey) – Classic Movie Review 6079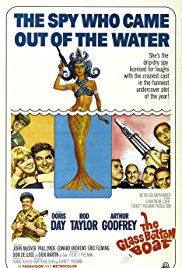 Director Frank Tashlin's frothy 1966 farcical comedy of misunderstandings successfully re-teams Doris Day with Rod Taylor after their hit Do Not Disturb (1965). It asks the intriguing question, is the girl next door a Soviet spy?
Day gives a feisty, attractive performance and enjoys a very good time on screen as a widow called Jennifer Nelson, who has a glass bottom boat in the waters off Santa Catalina Island, Channel Islands, California, and who gets embroiled with spies.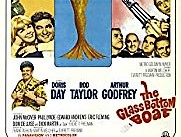 Rod Taylor plays her boss, Bruce Templeton, the head of an aerospace research laboratory. The duo meet and hook up. But Bruce's friend General Wallace Bleeker (Edward Andrews) suspects Jennifer is a Russian spy, and places her under surveillance. Bruce too begins to suspect his new girlfriend is a Russian agent.
Tashlin's fast-paced, daffy, typically Sixties comedy motors on Everett Freeman's frantic screenplay that pours on plenty of slapstick fun and fizzy dialogue, and makes ample room for polished performances from  a slew of America's best film farceurs (Paul Lynde, John McGiver, Edward Andrews, Dom DeLuise and Dick Martin). Tashlin handles the daft comedy expertly.
Only co-star Rod Taylor (as an aerospace scientist who employs Doris as a biographer) and Eric Fleming (from TV Rawhide) seem out of place.
Also in the cast are Arthur Godfrey, Alice Pearce, George Tobias, Elisabeth Fraser and Ellen Corby.
It runs 110 minutes, is an MGM release, is shot in widescreen by Leon Shamroy, is produced by Martin Melcher and scored by Frank DeVol.
Arthur Godfrey (1903–1983) was a radio and TV host and had his own TV show, The Arthur Godfrey Show (1948-1959).
© Derek Winnert 2017 Classic Movie Review 6079
Check out more reviews on http://derekwinnert.com