As Good As It Gets ***** (1997, Jack Nicholson, Helen Hunt, Greg Kinnear, Cuba Gooding Jr, Shirley Knight, Skeet Ulrich) – Classic Movie Review 185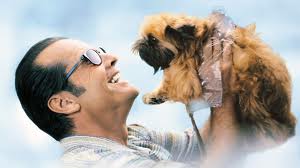 'How do you write women so well?' – awed publishers' receptionist
'I think of a man, and I take away reason and accountability.' – Melvin Udall
Jack Nicholson and Helen Hunt won Best Actor and Actress awards at both the Oscars and the Golden Globes in 1998 for their delightful, expertly judged performances in director James L Brooks's often-hilarious, finally touching smash-hit comedy. It's quite a compliment that it's managed to pull off a Hollywood romcom of the old school, reminiscent in style, spirit and achievement of It Happened One Night.
Nicholson gives a breathtaking show-stopping performance as Melvin Udall, an obsessive-compulsive novelist who takes great pride in his unerring ability to offend, wound, affront and repulse. He's an absolute horror of a human being. He can't stand on cracks in the sidewalk and he has no concept of other people, that they have feelings or lives separate from his own. They're just satellites of him.
But all that's about to change, of course. In his Manhattan apartment block, Melvin has a nice gay neighbour called Simon (Greg Kinnear), a struggling artist, whom he despises, along with his little dog, too, chucking it down the garbage chute.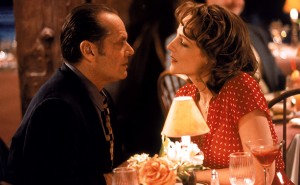 One day Simon decides to sketch a likely looking lad (Skeet Ulrich), but the boy lets a couple of thieving thugs into the apartment, who beat Simon up badly and steal his stuff. While he is hospitalized afterwards, Melvin is forced to baby-sit Simon's dog by art gallerist Frank Sachs (Cuba Gooding Jr). And, weirdly, Melvin starts to like the dog.
That unexpected (enforced) act of kindness, coupled with his (reluctant) growing fondness for waitress Carol Connelly (Hunt), starts to help put Melvin back in the human race. But not before he infuriates everyone around him, particularly Carol, who has him banned from his regular breakfast meal in her diner when he pursues her and makes upsetting remarks about her sick son.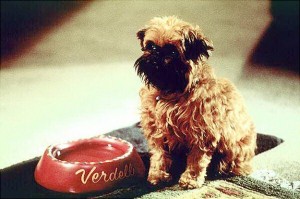 The burglary leaves Simon wounded emotionally and physically, and stone cold broke. Melvin, uncharacteristically agrees to take him in to his spare room help after he's been robbed ('we'll get you back on your knees in no time'). And later, Melvin agrees to take Simon on a road back to his parents to ask for some money – provided he can talk Carol into coming along too.
Carol's mom (Shirley Knight) is a woman romantically, as well as practically inclined, and she surprisingly encourages her daughter in Melvin's conquest of her, but first to accept his financial help in the health care of her poorly little boy. Carol needs a man, after all, hunky young blokes like Randall Batinkoff she dates just can't cope with her situation. When Melvin tells Carol 'You make me want to be a better man', that pretty much does the trick.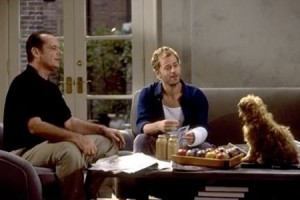 What to say in the film's disfavour? I could say that Gooding Jr and Ulrich are wasted in weakly written parts, but then they're just side issues. Or that it's slightly over-long at 139 minutes, but nevertheless it does keep up the momentum, shifting gear along with locale a couple of times later on. It may not be quite perfect (hey, nobody's perfect!), but this acid, not-too-sentimental, bitter-sweet romantic comedy is really about as good as it gets.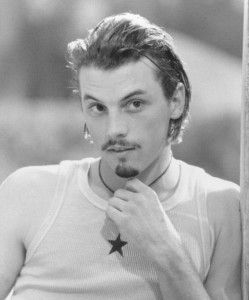 Stupendous though the actors are, they've got a great start in the tasty dialogue and witty one-liners in the very finely honed script by story-writer Mark Andrus and the director, James L Brooks. You can watch this movie time after time, and it comes up trumps every time, delivering the laughs and a warm glow of pleasure. It's sweet that it's so gay friendly too, with Kinnear hitting the right note every time.
Harold Ramis is hysterical as the doctor and director Lawrence Kasdan has a cameo as Dr Green. Expect some strong language and nudity. Oscar nominations for best picture, writing, supporting actor (Kinnear), score and editing.
© Derek Winnert 2013 Classic Movie Review 185
Check out more reviews on http://derekwinnert.com