Yolanda and the Thief ***½ (1945, Fred Astaire, Lucille Bremer, Frank Morgan, Leon Ames, Mildred Natwick) – Classic Movie Review 5159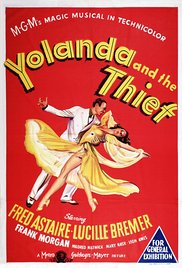 Fred Astaire and Lucille Bremer reunite from Ziegfeld Follies (1945) for more graceful dancing, filmed with flair and lavishness by MGM in glorious Technicolor. With Frank Morgan as Victor Trout, Leon Ames as Mr Candle, and Mildred Natwick as Aunt Amarilla also starring, the performances are all expert and appealing.
It is just a shame about screen-writer Irving Brecher's airy-fairy yarn, however, in which thief Johnny Riggs (Astaire) tries to con rich Yolanda (Bremer) into believing that he is her guardian angel. All is well with the scam – until love intrudes.
The highlights include the 16-minute 'Will You Marry Me' dream ballet and the finale featuring Arthur Freed and Harry Warren's song 'Coffee Time'.
Other songs include 'This Is the Day for Love', 'Yolanda', and 'Angel'. The film was a flop in its day – and it is still undervalued, and mostly forgotten. Brecher's screenplay is derived from a story by Jacques Théry and Ludwig Bemelmans.
Also in the cast are Mary Nash, Ludwig Stossel, Jane Green, Remo Bufano, Francis Pierlot, Leon Belasco, Gigi Perreau, Charles La Torre, Michael Visaroff, Eugene Borden, André Charlot, Gino Corrado, Martin Garralaga, George Humbert, Marcel de la Brosse, Torben Meyer, Matt Mattrox, Peter Miles, Georges Renavent, Harry Semels, Reginald Simpson, Larry Steers, Marek Windheim, Rogue Ybarra and Lester Sharpe.
© Derek Winnert 2017 Classic Movie Review 5159
Check out more reviews on http://derekwinnert.com