With Six You Get Egg Roll ** (1968, Doris Day, Brian Keith, Pat Carroll, Barbara Hershey, George Carlin) – Classic Movie Review 6365
Director Howard Morris's 1968 movie has a lovely title for a genially amusing Doris Day comedy, in which she plays Abby McClure, a widow juggling a career as a lumberyard owner with raising three sons.
At her matchmaker sister's prompting, she meets, starts dating, falls for and then weds the eligible widower Jake Iverson (Brian Keith), who has a teenage daughter. Then Day tries smoothly to merge their ill-assorted children and pets, who, of course, don't hit it off at all. it's a big problem that Jake's daughter Stacy (Barbara Hershey) wants to be the woman of the house, and that Abby's oldest son Flip (John Findlater) hates Jake.
The hit song is 'You Make Me Want You' (music by Robert Mersey, lyrics by Bob Hilliard).
It proved the end of Day's movie career, alas, as it is her final movie.
Day's producer husband Martin Melcher died of a heart attack, aged 52, on 20 before the film's release on 7 August 1968.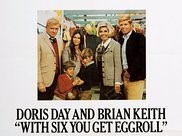 Also in the cast are Pat Carroll, Barbara Hershey, George Carlin, Alice Ghostley, John Findlater, Jimmy Brachen, Richard Steele, Herbert Voland and Jamie Farr.
It is written by Gwen Bagni, Paul Dubov (based on their story), Harvey Bullock and R S Allen, shot by Ellsworth Fredericks and Harry Stradling Jnr, and scored by Robert Mersey.
It was also known as A Man in Mommy's Bed.
Calamity Jane, Love Me or Leave Me, The Man Who Knew Too Much (1956) and Pillow Talk are the best of Doris Day.
© Derek Winnert 2017 Classic Movie Review 6365
Check out more reviews on http://derekwinnert.com