The Man Who Knew Too Much ***** (1956, James Stewart, Doris Day, Bernard Miles, Brenda de Banzie, Daniel Gélin) – Classic Movie Review 243
Alfred Hitchcock remakes his own 1934 spy thriller with great flair and success. He enjoyably spruces up the old story for the more cynical 50s with a smart screenplay by John Michael Hayes, which successfully changes and refreshes much of the detail and tone of the original.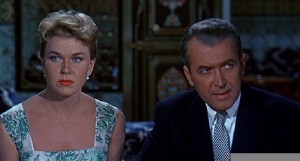 James Stewart and Doris Day give rich, edgy performances as Dr Benjamin and Jo McKenna, nice, average American parents who take a trip to Marrakech, in French Morocco. A Frenchman they met on the bus, Louis Bernard (Daniel Gelin), is stabbed in the back, and his dying words tell Stewart an assassination of a statesman is planned in London. 'A man, a statesman, is to be killed. Assassinated in London. Soon, very soon. Tell them in London. Tell them to try Ambrose Chapel.'
Now the McKennas become understandably frantic when their teenage son Hank (Christopher Olsen) is kidnapped in by an apparently kindly British couple, the Draytons (Bernard Miles, Brenda de Banzie). The McKennas can't tell the police about the assassination plot because the Draytons' unknown employers will kill the boy. There's nothing to do but head for London and try Ambrose Chapel themselves.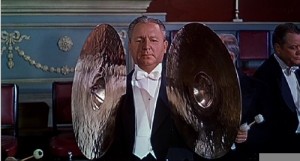 It says a lot for their acting that Stewart and Day are credible as a married couple and as parents in torment. These are not just famous film star appearances. Intriguingly, the screen nice guy Stewart becomes increasingly nasty as he gets more upset by the various plot twists, and the star kicks up quite a stir of emotional acting in a resonant performance of high quality. Stewart and Hitchcock were ideal together, almost as good as Cary Grant and Hitchcock.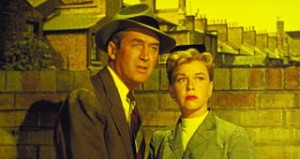 Though she was much troubled during filming by Hitchcock's lack of directing her performance, the underrated Day is extremely effective and delightful, even when having to sing the Oscar-winning, evergreen song 'Que Sera, Sera' over and over at the film's tense climax. It's a nice tune, guys, but it's not that brilliant!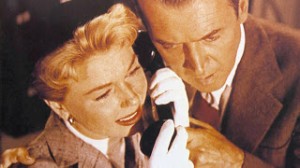 This very rewarding film is really underestimated and turns out to be a lot more than its reputation of being merely 'old-fashioned good fun' thanks in part to the great expertise behind the story, performances and the direction and the power generated by some very compelling and effective dark moments.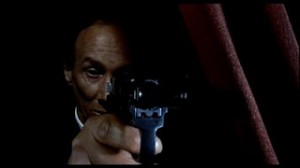 This version doesn't so much supplant as complement the original, though it's turned out to be another tepidly received Hitchcock film that's dated well. It profits from abandoning the witty bantering nature of the original in favour of a more adult, bleaker tone that material always suggested. This makes it feel much more 'grown up' than the likeable 1934 caper.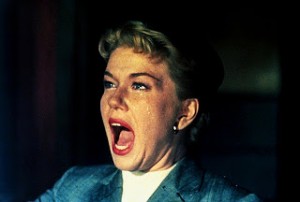 Hitch's favourite composer Bernard Herrmann turns in a useful score and is seen conducting in the Albert Hall finale (which is generally more successfully staged than in the 1934 version), where a creepy killer spy (Reggie Nalder in a career highspot) plans to shoot a foreign diplomat on a cymbal clash.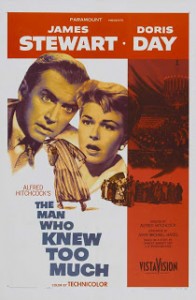 It's easy to understand why they changed the main protagonists into an American couple for the international market, but why change the daughter of the original to a son, why change the character names and why change the setting from Switzerland to Morocco?
François Truffaut said: 'In construction, as well as in the rigorous attention to detail, the remake is far superior to the original.' It's surprising that he's willing to put down the original quite that much.
Hitchcock can be seen in his traditional cameo in the Moroccan market place.
Check out the review of the 1934 version:
http://derekwinnert.com/the-man-who-knew-too-much-classic-film-review-242/
(C) Derek Winnert 2013 Classic Film Review 243 derekwinnert.com