White Mischief **** (1987, Charles Dance, Greta Scacchi, Joss Ackland, John Hurt) – Classic Movie Review 6406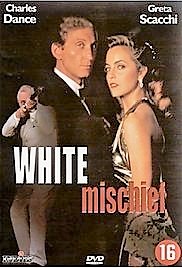 Charles Dance, Greta Scacchi, Joss Ackland and John Hurt head the superb British cast for director Michael Radford's 1987 film version of the true-story romantic thriller offering a solution to the mystery of the 1940s murder of Josslyn Hay, the Earl of Erroll (Dance), in the snobbish Kenyan British community of the Happy Valley.
The performances, the opulent setting yet tawdry story and director Radford's painstaking re-creation of time and place help to make this a memorable British movie. Radiant though Scacchi is as Diana Lady Broughton, and splendid though the entire roster of players is, it is Ackland who steals the show as her rich, cuckolded husband, 'Jock' Delves Broughton.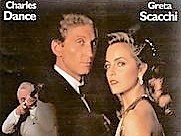 Also in the cast are Sarah Miles as Alice de Janzé, Trevor Howard, Geraldine Chaplin, Hugh Grant, Susan Fleetwood, Jacqueline Pearce and Murray Head.
The screenplay by Radford and Jonathan Gems is based on ased on James Fox's book. It has an 18 certificate but there is also a PG version, trimming the strong language and sex scenes, and TV may show a further cut version.
A BBC film of this same story, The Happy Valley with Denholm Elliott, was filmed simultaneously.
© Derek Winnert 2017 Classic Movie Review 6406
Check out more reviews on http://derekwinnert.com