Victim ***** (1961, Dirk Bogarde, Sylvia Syms, Peter McEnery, Dennis Price, John Barrie) – Classic Movie Review 606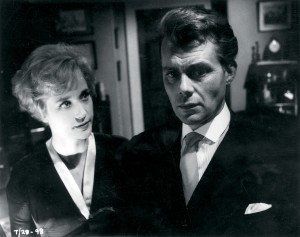 In 1961 closeted gay actor Dirk Bogarde took a huge risk to his star status as Britain's premiere matinee idol, and bravely became one of the first major movie stars anywhere to tackle a taboo subject and play a gay role in one of the first films to deal directly with the topic. It's notable in movie and social history as the first English language film to use the word 'homosexual', but then of course it had been the love that dared not speak its name for generations.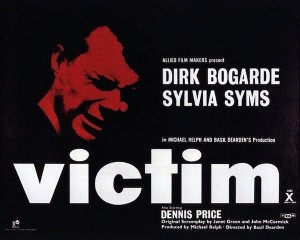 Bogarde obviously saw that the times were changing, and that the movies were, and he had to, too. He was right. It was adapt or die, or at least fade away. Others who didn't, like Kenneth More, John Gregson or George Baker were swept aside by the arrival of the 'kitchen sink' dramas of the late 50s and early 60s. So he was right.
In one sense, Bogarde simply didn't want to be sidelined or confined to TV. But in another, as a closeted gay actor, he must have embraced this film as being close to his heart. It led him on to make The Servant with Joseph Losey and The Damned and Death in Venice with Luchino Visconti, who has seen him in Victim and cast him because of it.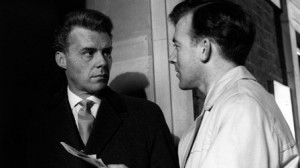 Quiet, strong and resolute, Bogarde is extremely persuasive and moving as Melville Farr, a married English lawyer forced out of the closet by having to tell his surprised and bewildered wife Laura (Sylvia Syms) that he's being blackmailed by a rent boy (Peter McEnery) who has photos of Farr and a young gay man in Farr's car. The young man was also being blackmailed and, after he commits suicide, Farr tracks down other gay men being blackmailed by the same criminal. Farr's garage door is daubed in whitewash: 'Farr is queer'.
John Barrie co-stars as Detective Inspector Harris, a highly educated policeman who considers the English law of the day simply a blackmailers' charter, and helps Farr to call his blackmailer's bluff. [Spoiler alert] Astonishingly, there is a gay lib conclusion and even happy ending as Farr and Laura accept his homosexuality after the public exposure he faces in the blackmailer's trial.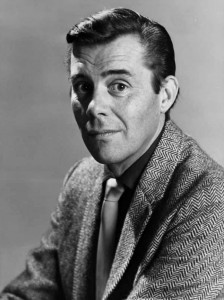 Director Basil Dearden's film is a tense, gripping, suspenseful thriller, atmospherically photographed in stark black and white by cinematographer Otto Heller, who had photographed Peeping Tom the previous year. Dearden turns in a thoroughly professional, craftsmanlike piece of work, with a dynamic pace and a sense of style. Janet Green and John McCormick make a good, intelligent, literate job of the screenplay, and it hasn't dated badly at all, when a lot of issue films of the past have.
But, aside from its very considerable entertainment value as a drama, Victim is valuable for its sympathetic portrait of gay London in the Sixties and people living under the threat of blackmail when homosexuality was illegal and punishable by long jail terms in the UK. It was not until the Sexual Offences Act of 1967 that homosexuality between consenting males over the age of 21 was decriminalised. The Criminal Justice and Public Order Act 1994 reduced the gay age of consent to 18 and the Sexual Offences (Amendment) Act 2000 further reduced it to 16, bringing parity with heterosexuals.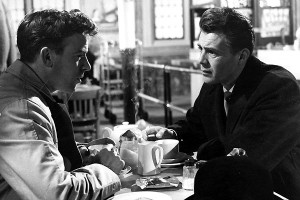 The film was a trail blazer, and it proved an important opinion former that helped towards the eventual change in the law. It was also one of the significant signs that the British cinema was growing up in its ability to tackle 'adult' issues in a grown-up way. And it is thrilling that it pointed the way to the end of the days when gays were always portrayed as sad, pathetic, or victims. The character Bogarde plays is quite noble, mature and brave. In 1961, there was a gay hero at last! Farr is a victim no longer, gays in real life can be the same.
It is a shame that Bogarde felt unable to follow his character's lead in coming out, and that his lovely series of memoirs, starting with A Postillion Struck by Lightning, are marred by their lack of truth or at least candour. But Bogarde was a complex, contradictory, awkward sort of man. In his own way, and on his own terms, he also was a gay hero at last!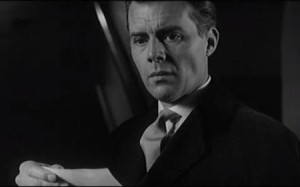 British film censor John Trevelyan agreed to pass the film after cuts to four lines of dialogue, but three of these were rescinded upon appeal, including Farr's 'Because I wanted him. I wanted him!' So finally the only cut was the removal of a line of dialogue referring to an adolescent boy 'making the wrong choice'.
Unsurprisingly. Jack Hawkins, James Mason and Stewart Granger turned down Farr role. Thank you for accepting the challenge, Dirk.
Also in the cast are Norman Bird, Anthony Nicholls, Dennis Price, Charles Lloyd Pack, Derren Nesbitt, John Cairney, Hilton Edwards, Peter Copley, Donald Churchill and Nigel Stock.
© Derek Winnert 2014 Classic Film Review 606 derekwinnert.com