The League of Gentlemen **** (1960, Jack Hawkins, Nigel Patrick, Roger Livesey, Richard Attenborough, Bryan Forbes) – Classic Movie Review 191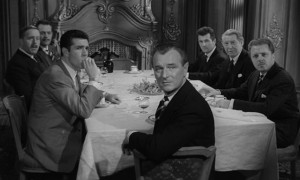 Renowned producer-director Basil Dearden's superlative 1960 heist caper is a thoroughly enjoyable, old-style thriller entertainment. Based on a once-famous novel by John Boland, it's the quintessence of Britain in the jaded, jaundiced late-50s. Its cool cynicism has kept it fresh.
Playing it to the stiff-upper-lip manner born, Jack Hawkins relishes one of his most archetypal roles as the rather bossy and frosty Colonel Hyde, an ageing, disgruntled former British military officer forcibly retired by the army.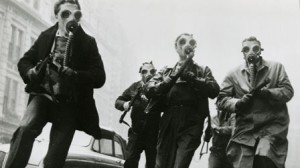 Inspired by a novel about a robbery, Hyde recruits a dissatisfied second in command, Major Race (Nigel Patrick), and then convenes a gang of disgraced military gentlemen with guilty secrets to join him in the daring bank job he's masterminding. Will there be honour among thieves? Maybe not.
Adapting Boland's clever novel, Bryan Forbes makes an excellent job of writing the expert script, with lots of cranky dialogue and quirky characters. And he also makes his acting mark as one of the conspirators, Captain Porthill. His real-life wife Nanette Newman's is also in the cast as Elizabeth, seen taking a bubble bath, supposedly naked. And Forbes's real-life friend Richard Attenborough plays another of the crooks, Lieutenant Lexy.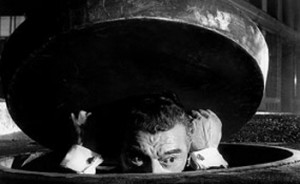 There are plenty of chuckles to be found in the dark-toned humour that underpins and helps to sustain the thriller story and this is a movie that effectively captures the world-weary, cynical end-of-Fifties mood in the tawdry life of the UK, before the country found new life in the swinging Sixties.
Roger Livesey's Captain Mycroft and Robert Coote's Brigadier Bunny Warren are standouts among the cast, though in an odd piece of casting, infamous heterosexual Oliver Reed (just 22) is rather less convincing in a tiny part as a camp gay stereotype chorus boy at a theatre production of Babes in the Wood! It was one of seven film roles he had in 1960.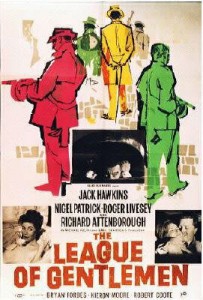 The film is populated with favourite British actors on their way up and actors either on their way or their way down.
It was the film debut of Dinsdale Landen, aged 27, who died aged 71 in 2003 of mouth cancer: he has a walkon here as a gym massage client. In his debut, Terence Edmond plays a young PC, the same kind of role he famously played in TV's Z Cars (1962-64) as PC Sweet. And there's a little, uncredited role for Bruce Seton, as the patrolman, who'd been a big TV star as the detective superintendent n Fabian of the Yard (1954-56), but was typecast and found other roles hard to come by. Workwise, he took what crumbs of comfort he could, even appearing with Charlie Drake on TV.
Director Dearden ensures that there is a part (as Peggy) for his wife, too, Melissa Stribling, mother of director James Dearden.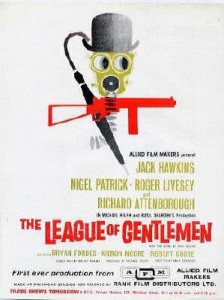 Bryan Forbes died aged 86 on May 8 2013. Richard Attenborough died on , aged 90.
The film was planned and originally written for Cary Grant, who turned it down. It was thought not important enough a project for him, but it became a huge hit. Hawkins stepped in, though he was already suffering from cancer and the production had to close for a few days for his illness.
The portrait of Colonel Hyde's wife ('I regret to say the bitch is still going strong') is one of Deborah Kerr in The Life and Death of Colonel Blimp, which starred Livesey.
Forbes, Attenborough, Hawkins, Dearden and co-producer Michael Relph formed the Allied Film Makers production company.
© Derek Winnert 2013 Classic Movie Review 191
Check out more reviews on http://derekwinnert.com/