Up the Junction *** (1968, Suzy Kendall, Dennis Waterman, Adrienne Posta, Maureen Lipman, Michael Gothard, Liz Fraser, Hylda Baker, Alfie Bass) – Classic Movie Review 5897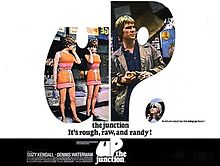 Director Peter Collinson's 1968 movie adaptation of Nell Dunn's famous 1963 book and Ken Loach's classic BBC TV adaptation of 1965 was popular but did not spark the kind of controversy or impact that they did. This Sixties kitchen-sink drama is now very dated and not as sympathetic or fascinating as it once seemed. But it is still a lively, colourful, very interesting film, a document of its time and place.
Suzy Kendall stars in Dunn's downbeat tale of a breezy Chelsea dolly bird, young heiress Polly Dean, who goes south of the River Thames – to South London's Battersea – to swap her posh home and privileged life for an experience of the other side of life in a tough, working-class area of town, way before it was yuppiefied and gentrified.
There she gets work in a sweet factory and becomes friends with sisters Sylvie (Maureen Lipman) and Rube (Adrienne Posta), and she encounters working-class boy Pete (an extremely young-looking Dennis Waterman) and starts a relationship with him. Rube ends up pregnant and has a traumatic illegal abortion, and more trendy gloom and doom follows.
What remains memorable now are the performances, Arthur Lavis's Technicolor cinematography and the film's soundtrack by Mike Hugg and Manfred Mann.
Also in the cast are Michael Gothard as Rube's boyfriend Terry, Liz Fraser, Hylda Baker, Alfie Bass, Linda Cole, Doreen Herrington, Jessie Robbins, Barbara Archer, Ruby Head, Susan George, Sandra Williams, Michael Robbins, Aubrey Morris, Billy Murray, Michael Standing, Leslie Meadows, Stephen Whittaker, Shaun Curry, Anthony Sharman, Douglas Sheldon, Queenie Watts, Olwen Griffiths, Lockwood West, Michael Barrington, Mark Ross, Yvonne Manners, Harry Hutchinson, Larry Martyn, Ronald Clarke, Michael Martin, Gladys Dawson, Derek Ware and Mike Reid.
Roger Smith scripts the screenplay, adapting Dunn's book rather than remaking Loach's TV film.
© Derek Winnert 2017 Classic Movie Review 5897
Check out more reviews on http://derekwinnert.com