Up the Front ** (1972, Frankie Howerd, Bill Fraser, William Mervyn, Zsa Zsa Gabor, Stanley Holloway, Hermione Baddeley, Dora Bryan, Lance Percival, Robert Coote) – Classic Movie Review 5895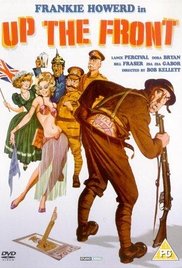 Director Bob Kellett's saucily coarse, very much hit-and-miss 1972 British comedy stars the great comedian Frankie Howerd, who is again is on tittersome form as Lurk, Lord Twithampton (William Mervyn)'s cowardly servant.
Lurk has no intention of helping the First World War effort until he is hypnotised to save England and becomes a fearless warrior.
Then he is tricked into joining the armed forces and finds himself in great demand due to the German war plans tattooed on his bottom to get them back to England. And now only Frankie's cheek can save Britain.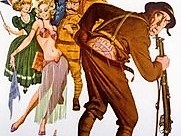 The variable script is again by Sid Colin, with help from Morecambe and Wise's writer Eddie Braben, whose best work was on TV. To be honest, it is more miss than hit, with a lot of lame ancient jokes that give the performers a hard time rising laughs. But somehow, it just about holds together, mainly through good will and affection for Howerd and the others. The excruciating, ancient gags and the outrageous mugging are all part of the fun, just like they were on the original Up Pompeii TV series (1969-70).
It is the last of Howerd's three popular Up farces, following Up Pompeii (1971) and Up the Chastity Belt (1971), even more vulgar, smutty and slapdash than those. But Howerd is a great trouper and there's an extraordinary, mainly British cast, but also with Zsa Zsa Gabor (1917–2016) as Mati Hari. It is the film debut of Bob Hoskins (1942–2014), playing the Recruiting Sergeant.
Also in the cast are Bill Fraser as Groping, Stanley Holloway, Hermione Baddeley, Dora Bryan, Lance Percival, Robert Coote, Peter Bull, Jonathan Cecil, Percy Herbert, William Mervyn, Linda Gray, Madeline Smith, Nicholas Bennett, Mike Grady, Veronica Clifford, Peter Greenwell, Barrie Gosney, Vernon Dobtcheff, Ingo Mogendorf, Gertan Klauber, Stanley Lebor, Percy Herbert, David Battley, Andy Bradford, Alan Rebbeck, Bozena, Ian Talbot, Parnell McGarry, Leena Skoog, Toni Plamer, Delia Sainsbury, Michael Brennan, Harvey Hall, Patricia Quinn, Kenneth Fortescue, Mischa de la Motte, Madhav Sharma, Robert Gillespie and Derek Griffiths.
It is produced by Ned Sherrin, Beryl Vertue and Terry Glinwood (who died on 5 ged 82).
© Derek Winnert 2017 Classic Movie Review 5895
Check out more reviews on http://derekwinnert.com