Up the Chastity Belt ** (1971, Frankie Howerd, Graham Crowden, Bill Fraser, Hugh Paddick, Roy Hudd, Anna Quayle, Eartha Kitt, Dave King, Fred Emney) – Classic Movie Review 5896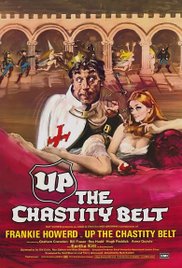 Director Bob Kellett's 1971 sequel to Up Pompeii is a bawdy, double-entendre laden medieval romp, again a showcase for Frank Howerd, who this time stars in a double role as the lowly serf Lurkalot and his twin brother King Richard the Lionheart who is away at the Crusades.
Among the treasurable cast of British comic actors of the time are Graham Crowden as Lurkalot's master Sir Coward de Custard, Bill Fraser as Sir Braggart de Bombast and Hugh Paddick as an unusually camp Robin Hood.
It also stars Roy Hudd, Anna Quayle, Eartha Kitt, Dave King, Fred Emney, Derek Griffiths, and Lance Percival.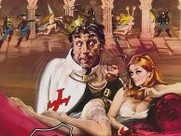 There is no subtlety in the humour of course in the lowbrow slapstick comedy. But that is hardly the point, for there is plenty to snigger at in this second movie spinoff from Howerd's original Up Pompeii TV series (1969-70). This time Ray Galton and Alan Simpson (Steptoe and Son, Hancock's Half Hour), help Sid Colin out on the rough-and-ready, smutty script.
Also in the cast are David Battley, Anne Aston, Nora Swinburne, Godfrey Wynn, Royce Mills, Veronica Clifford, Iain Cuthbertson, Judy Huxtable, Frank Thornton, Billy Walker, Rita Webb, Aubrey Woods, Long John Baldry, Sam Kydd, Alec Pleon, David Prowse, Alan Rebbeck, Christopher Sandford, Bernard Sharpe, Christopher Timothy, John Vyvyan, Nora Wypp, David Kernan (as Troubadour) and Sammy Winmill.
It follows the first film, Up Pompeii (1971). The final film in the trilogy, Up the Front, followed in 1972.
It is produced by Ned Sherrin, Beryl Vertue and Terry Glinwood (who died on 5 March 2017, aged 82).
David Kernan played Prodigius in the TV Up Pompeii.
© Derek Winnert 2017 Classic Movie Review 5896
Check out more reviews on http://derekwinnert.com