Uncle Buck *** (1989, John Candy, Macaulay Culkin, Jean Louisa Kelly, Gaby Hoffmann, Amy Madigan) – Classic Movie Review 5772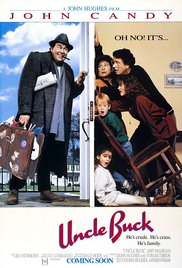 Writer-director John Hughes's 1989 comedy stars chubby John Candy as the amiable bachelor slob of the title, who is called in as a last resort to look after his sister-in-law Cindy (Elaine Bromka)'s three sharp-as-knives children when her father has a heart attack.
The younger kids Maizy and Miles (Gaby Hoffmann, Macaulay Culkin) are soon quite taken with their uncle, with his weird attempts at cooking and laundry. But the rebellious, teenage daughter Tia (Jean Louisa Kelly) starts a private war with him so that she can canoodle with her boyfriend Bug (Jay Underwood).
Candy is an expert funny man, though less lovable than he thinks, which means you aren't always on his side in this not-bad, but always rather obvious and often somehow irritating family comedy.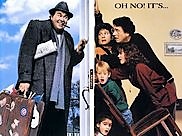 Though Hughes's screenplay is contrived and patchy, and the acting variable, the movie is entertaining enough.
The TV print cleans up the minor swear words.
Also in the cast are Amy Madigan, Garrett M Brown, Laurie Metcalf, Brian Tarantina and Mike Starr.
© Derek Winnert 2017 Classic Movie Review 5772
Check out more reviews on http://derekwinnert.com