Torpedo Run *** (1958, Glenn Ford, Ernest Borgnine, Diane Brewster, Dean Jones, L Q Jones, Philip Ober) – Classic Movie Review 4437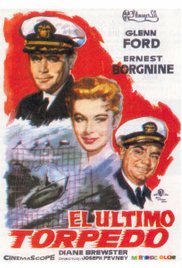 Director Joseph Pevney's edgy, intelligent and capably directed 1958 World War Two action adventure is helped by Glenn Ford's earnest, strong-note star role as dogged, semi-crazed American submarine commander Doyle.
He vows to stop at nothing to avenge the death of his wife (Diane Brewster) and child, killed aboard the Japanese navy aircraft carrier and prisoner ship that he and his executive officer, Lieutenant Archer Sloan (Ernest Borgnine), had to blow up. When Ford fires his torpedoes at the carrier, it veers off at the last minute, and his weapons hit the prisoner transport.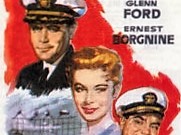 Torpedo Run is held up by a bit too much stodgy, heavy-going talk, but it is well meaning and has a good heart, while the sea warfare scenes are taut and exciting. It also helps that George J Folsey shoots in attractive widescreen and colour. Ford and Borgnine are excellent and it also stars Dean Jones, L Q Jones and Philip Ober.
Watch for British TV stalwart Robert Hardy as Lieutenant Redley in his only Hollywood film. Also in the cast are Richard Carlyle, Fred Wayne, Don Keefer and Paul Picerni. The effects were Oscar nominated.
© Derek Winnert 2016 Classic Movie Review 4437
Check out more reviews on http://derekwinnert.com