The Enemy Below **** (1957, Robert Mitchum, Curd Jürgens, David Hedison) – Classic Movie Review 4931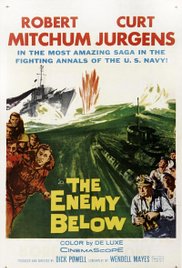 Producer-director Dick Powell's great 1957 World War Two watery action adventure epic drama follows the story of an American destroyer and a German U-boat chasing each other around the South Atlantic.
Robert Mitchum and Curt Jurgens [Curd Jürgens] are stalwart as the respective captains, Captain Murrell of the USS Haynes and German commander Von Stolberg. This suspenseful movie concentrates on the emotions and trials of the two men and their duel of wits in contrast to the simple boom-boom gunfire attacks of other naval dramas of the era.
The excellent performances and Powell's smart direction keep it ship-shape and the special effects team picked up an Oscar for their sterling work, with Walter Rossi winning the 1958 Academy Award for Best Special Effects.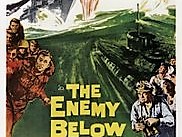 Also in the cast are Theodore Bikel, David Hedison, Doug McClure, Russell Collins, Frank Alberston, Biff Elliot and Kurt Kreuger.
It runs 99 minutes, was made and released by 20th Century Fox, it was shot in CinemaScope and De Luxe colour by Harold Rosson and is scored by Leigh Harline.
Wendell Mayes's screenplay is based on the novel by D A Rayner. The following year brought Run Silent, Run Deep in similar vein. Both films were influences on Crimson Tide (1995).
© Derek Winnert 2017 Classic Movie Review 4931
Check out more reviews on http://derekwinnert.com