Tootsie ***** (1982, Dustin Hoffman, Jessica Lange, Teri Garr) – Classic Movie Review 203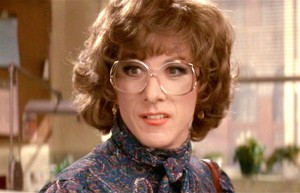 'We're looking for someone younger.'
'We're looking for someone older.'
'We're looking for someone else.'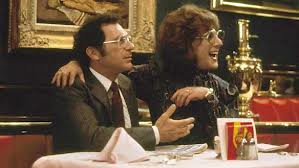 With just a delicious bitter-sweet touch of romance and a poignant back flavour, Sydney Pollack's witty and charming 1982 drag comedy is a hilarious laughter-raiser – the finest and most enduringly popular since Some Like It Hot in 1959.
A brilliant Dustin Hoffman gives a stupendous performance as Michael Dorsey, an out-of-work Manhattan actor with a reputation for being difficult, who comes up with a radical solution to the problem. He finds that, with no jobs available for a man, there's nothing for it but to disguise himself as a woman, whom he calls Dorothy Michaels, when a likely job comes up in a General Hospital-style daytime soap drama, Southwest General. Despite him looking much more like Charlie's Aunt, or anyone else's ancient spinster aunt, than a real young alluring woman, he fools everyone and lands the role and of course has to carry on the charade to keep it.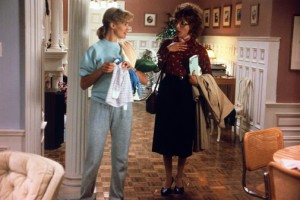 Of course then there's loads of sexual confusion in this joyous exploration of gender. The TV show women look to Dorothy as a liberating role model against the oppression of men like Michael. The comedy of embarrassments mounts to a delirious climax. Michael falls for his soap co-star Julie, her father falls for him, a male co-star falls for him, and his girlfriend is understandably not very happy about any of it. At any rate, by the finish, Michael ends up being a better man because he's been a woman.
Hoffman, best supporting actress Oscar-winning Jessica Lange as his soap co-star Julie, Teri Garr as his girlfriend Sandy, Pollack as his agent George Fields and Bill Murray as Jeff provide the classy, charismatic playing deserved by Larry Gelbart, Murray Shisgal and (uncredited) Elaine May's bold, witty incisive screenplay. Good though she is, it's unfair she won and Hoffman didn't. He is the movie.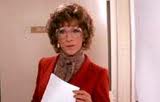 The idea was initiated in 1978 by Don McGuire, based on his experience as an actor and agent, but only one of his lines made it to the final screenplay. It had to be content with only the one Oscar, though picture, director, actor (Hoffman), screenplay, cinematography (Owen Roizman), editing and Dave Grusin and Alan and Marilyn Bergman's song (It Might Be You) were all nominated.
Gelbart, complaining of Hoffman's obsessive work on his role and the script, told me later: 'Never work with an actor who's smaller than his Oscar!' Gelbart claimed he had conceived Tootsie, and was angry that Hoffman claimed the film was his friend Schisgal's baby.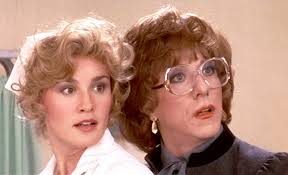 Hoffman eventually talked a reluctant Pollack into the agent acting gig (he wanted Dabney Coleman in the role). He was right, Pollack's great in his cameo. But they allegedly quarrelled on set and didn't film together again.
The film was called 'Would I Lie to You' until Hoffman suggested Tootsie, named after his mother's dog.
'I was a better man with you as a woman than I ever was with a woman as a man.' Confused? You will be!
http://derekwinnert.com/some-like-it-hot-classic-film-review-97/
© Derek Winnert 2013 Classic Movie Review 203
Check out more reviews on http://derekwinnert.com/