Tin Men *** (1987, Richard Dreyfuss, Danny DeVito, Barbara Hershey, John Mahoney) – Classic Movie Review 6409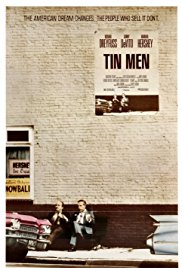 Richard Dreyfuss and Danny DeVito enjoy themselves as battling tin sellers in the early Sixties in one of writer-director Barry Levinson's ambitious semi-autobiographical Baltimore comedies made in 1987 between Diner (1982) and Avalon (1990).
BB Babowsky (Dreyfuss) and Ernest Tilley (DeVito) are serious rivals. The duo's feud starts when their cars are involved in a minor crash.
It is a likeable film, extremely well performed by two experts, though perhaps it is not quite as funny or clever as it wants to be. The bitter-sweet sad tone often turns sour, and the handling of the story and characters is wobbly and under-developed.
Still there is plenty of truth, humour and intelligence on show here, plus a lot of good dialogue and a whole gallery of admirable players on top form.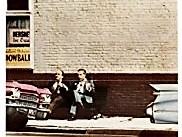 Also in the cast are Barbara Hershey, John Mahoney, Jackie Gayle, Stanley Brock, Seymour Cassel, Bruno Kirby, J T Walsh, Michael Tucker, Matt Craven, Richard Portnow, Alan Blumenfield and Brad Sullivan.
A fourth Baltimore film followed: Liberty Heights (1999).
© Derek Winnert 2017 Classic Movie Review 6409
Check out more reviews on http://derekwinnert.com