The Young Lions *** (1958, Marlon Brando, Montgomery Clift, Dean Martin, Maximilian Schell, Hope Lange, Barbara Rush, May Britt) – Classic Movie Review 6087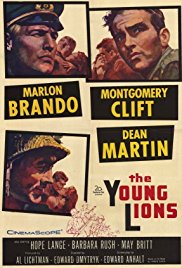 Director Edward Dmytryk's intelligent, thought-provoking 1958 war movie brings to the screen Irwin Shaw's popular novel about the World War Two fates of two American soldiers – playboy entertainer Michael Whiteacre (Dean Martin), Jewish-American Noah Ackerman (Montgomery Clift) – and an idealistic German officer Christian Diestl (Marlon Brando). It was nominated for three Oscars – Best Black-and-White Cinematography, Best Music, Scoring of a Dramatic or Comedy Picture and Best Sound.
Screen-writer Edward Anhalt, producer Al Lichtman and Dmytryk turn it into a complex, thoughtful but commercial war picture and keep the long, involved piece on the rails. Antisemitism in America, a good German and wartime redemption are among the topics under careful consideration. It is a good hearted, liberal-minded movie, so, especially considering the cast, it is surprising that it is a mostly forgotten movie.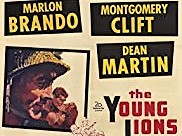 A blonded, heavily German accented Brando shows his versatility and gives a typically powerhouse performance, though his portrayal of a sympathetic Nazi came under fire. Of course the intention was to promote international understanding, not promote Nazism. However, the other performances are forceful too, helping to bring spark and focus to an episodic epic.
There is rousing music from Hugo Friedhofer and handsome black and white cinematography by Joe MacDonald. Both men were Oscar nominated, as was Carlton W Faulkner for Best Sound.
It was shot in Arizona and was also partly made on location in Europe, in France and Germany.
Also in the cast are Hope Lange, Barbara Rush, May Britt, Dora Doll, Lee Van Cleef, Arthur Franz, Hal Baylor, L Q Jones as Private Donnelly, Liliane Montevecchi,  Parley Baer, Richard Gardner, Herbert Rudley and Gene Roth.
Maximilian Schell (1930–2014) makes his English language screen debut, playing Captain Hardenberg. Three years later he won the Best Actor Oscar for his performance in Stanley Kramer's Judgment at Nuremberg.
© Derek Winnert 2017 Classic Movie Review 6087
Check out more reviews on http://derekwinnert.com