Moonfleet *** (1955, Stewart Granger, George Sanders, Joan Greenwood, Viveca Lindors, Jon Whiteley) – Classic Movie Review 3905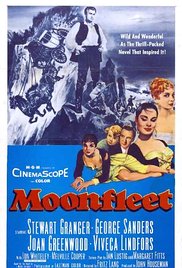 Director Fritz Lang's lively but cardboard-looking 1955 vintage costume adventure, based freely on J Meade Falkner's classic story, is way off Lang's usual territory. It is somewhat shakily made as what looks like a chore in the middle of his run of fine film noir thrillers.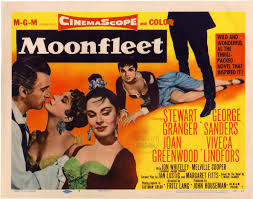 Though likeable, Stewart Granger seems to be insufficiently involved in his aloof performance as Jeremy Fox, a foppish rake who turns out to be the dashing leader of a band of smugglers. He is idolised by penniless young orphan boy John Mohune (appealing Jon Whiteley) who comes to the small Dorset, England, port of Moonfleet after his mother dies in 1757. Eventually the two are on the run from the law and set out to decipher a coded message in search of a diamond hidden years ago.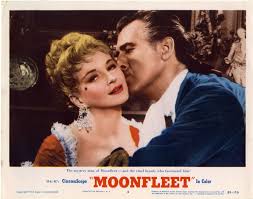 You will have to look hard for much swash in this movie's buckle. MGM's almost all-studio shot production on its backlot looks hollow and unconvincing, with only the seas scenes of the California coast being actual exterior shots.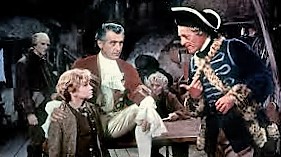 George Sanders and Joan Greenwood are more fun as the waspish Lord and Lady Ashwood, livening things up a lot. also in the useful cast are Viveca Lindors, Liliane Montevecchi, Sean McClory, Melville Cooper, Alan Napier, John Hoyt, Donna Corcorran, Jack Elam, Dan Seymour, Lester Matthews, Skelton Knaggs, John Alderson, Frank Ferguson and Ian Woolf.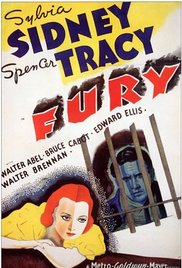 It is Lang's first movie in CinemaScope, which he resisted and found difficult, and his return to MGM after a 20-year ban following Fury (1936). Lang says: 'It is a romantic story, laid in the past, Dickensian.' He added the story 'calls for mood, for atmosphere. The smugglers work in the dark, on hazy days. I plan to light my principals just as you would in a play, dropping shadows on the sides of the stage to concentrate on the main action and the players involved in it.'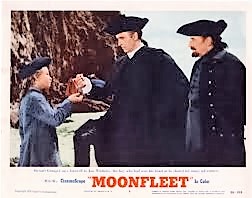 James Dean visited the set and Granger said he found his manner rude and dismissive. The ever blunt Granger added: 'I hated working with Fritz Lang – he was a Kraut and it was a bloody awful film. I wanted to produce and act it in Cornwall and made them buy the book. MGM turned it into a big colour film. Moonfleet was not Lang's type of film – it is a romantic child's film. It wasn't a bad part.'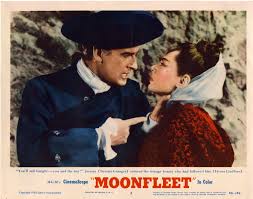 The film flopped and lost $1,203,000, but Cahiers du Cinéma named it as one of the 100 most essential films ever made.
The Fleet refers to the land west of Portland, southern England.
© Derek Winnert 2016 Classic Movie Review 3905
Check out more reviews on: derekwinnert.com