The Wicker Man ***** (1973, Edward Woodward, Christopher Lee, Diane Cilento, Ingrid Pitt, Britt Ekland, Lindsay Kemp, Aubrey Morris) – Classic Movie Review 179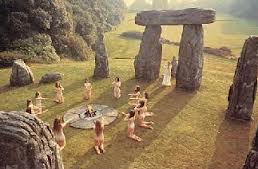 Début director Robin Hardy and writer Anthony Shaffer (Sleuth) got together in 1973 to make this hugely imaginative, intelligent and, above all, chillingly scary horror film about the celebration of paganism on a remote Scottish island called Summerisle. In a fine exercise in mounting tension, it mixes an eerie atmosphere with just plain weird and comes up with something totally strange, compelling and unique.
Up there on Summerisle the inhabitants, led by the creepy music-loving local laird and justice of the peace Lord Summerisle (Christopher Lee), are still practising the old druidic rites. Boys dance round a phallic maypole. Girls dance naked over a fire. Their crops have failed, so they must offer up a sacrifice for fruitfulness next year.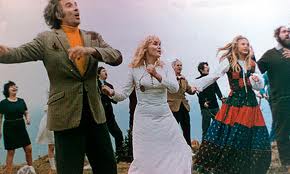 A deeply religious-minded, middle-aged Scots policeman, Sergeant Neil Howie, (Edward Woodward), believing in celibacy before his impending marriage, arrives by plane on the island to investigate the long-term disappearance of a young girl, the daughter of the woman who runs a sweetie shop.
Nobody recognises the photo of the girl he's been sent. As he continues his dogged inquiries, the Sergeant soon finds both his beliefs, his sanity and eventually even his life threatened.
The story's illustration of the origins of some of the pagan beliefs that are still in evidence today in British life is one of the many fine components that help to make Hardy's film so fascinating. So do the superb contrasting central performances of Lee (boomingly over-confident) and Woodward (twitchily nervous). The backbone of the movie, these two turns rivet the attention to the screen when some of the other performances really don't.
And then there is Paul Giovanni's weird and bawdy folk music that so enriches a film that's over-flowing with mad folk singing and dancing. And finally, there are the director of photography Harry Waxman's startling, luridly bright images.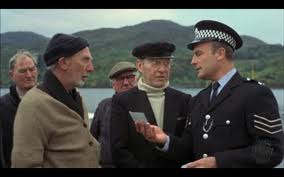 Some of these visuals look like they've been filmed through a tea strainer with a cheap amateur cine camera, with shaky zooms in and out and wobbly tracking shots. But others are beautifully composed and quite glorious.
And, at heart, this very 70s-style horror movie, gleefully mixing sex and violence and rejoicing in both, is basically a rattling good and way-offbeat OTT chiller yarn. As the Sergeant investigates, getting nowhere with the supremely quirky, unhelpful, basically bonkers locals, the film is one long ultra-tense, atmospheric build-up that leads to an explosion in a brilliantly chilling ending. That climax cries out like an agonising scream as you suddenly realise at the same moment as Woodward does exactly what the story's all been about and what is the meaning of The Wicker Man.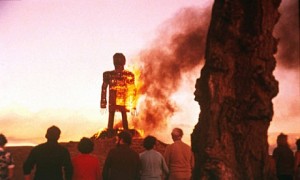 Britt Ekland plays the over-sexed daughter of unlikely local pub landlord Lindsay Kemp (the famous mime artist, speaking). She seems cast more for her beauty and physicality than her acting. Her naked writhing in her bedroom near door to a deeply troubled Woodward's caused some controversy at the time, though a body double later performed some of her nude dancing (and her Swedish accent was dubbed into Scottish by Scots singer-actress Annie Ross).
It's a shame there are virtually no Scots actors in the main cast, with horror icon Ingrid Pitt and Diane Cilento (as the local schoolmarm) both clearly struggling. Why did they cast them? They're none too good in it. And why didn't they dub them along with Ekland? This does pointlessly reduce the authentic Scots feel of the movie.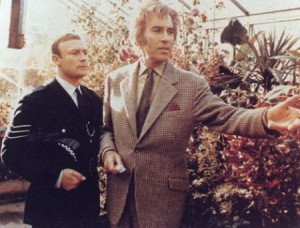 The film has a very scrappy, amateurish air about it. Frankly, it looks like home movie a lot of the time. This should badly count against it, but actually it is quite endearing and fits in well with the mix. The story, the fascination of the paganism theme and the general air of weirdness and the constant cranking up of mounting tension and fear are much more potent than any downsides.
It's arguably Lee's best performance, certainly one of them (there are so many!), and apparently his favourite, though he worked without a fee to do it. He wisely eschews any attempt at a Scottish accent and his booming tones add great authority to the movie, though it's scary to see him dancing and singing and dressed like a woman at the film's climax! Michael York was originally cast as the policeman, but Woodward was substituted when York couldn't fit in to the filming schedule.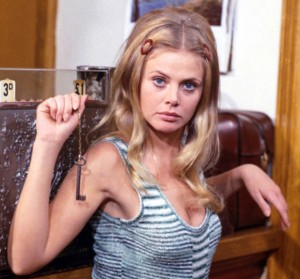 This is a lucky chance, because in many ways Woodward's exceptional performance as a Christian sorely tested is the making of the movie. It's his story and he's on screen throughout. It shows what a special actor Woodward was when he was offered the chance.
The film company was horrified in the wrong way when Hardy delivered the movie and the film was butchered on its original release to be the support feature to Don't Look Now. This release cut version runs at only 87 minutes. The first director's cut version from 1979 runs 99 minutes. The 2001 restored director's cut runs 102 minutes, and it reassembles almost all the original film, bar two still missing scenes. Sadly, this fabled long version is apparently now missing and will probably never be found.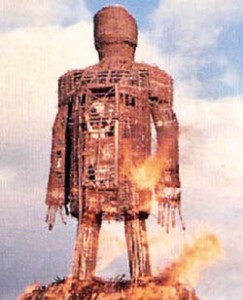 In 2013 the first ever full 2K Restoration was released as The Final Cut, using the 1979 35mm US release print found at Harvard Film Archives. This crucially restores the intended original story order, makes the events take place on the island over a 72-hour period, establishes Lord Summerisle as a character in the story far earlier, and includes the performance of the song Gently Johnny.
The film proudly announces at the end that it's all filmed on location in Scotland. With the actors looking damp and cold, it's all too obviously filmed in the chilly days of October and November, though it's set in the early summer days of late April and May 1.
It's back in UK cinemas on September 27 2013 and on DVD/Blu-ray October 14.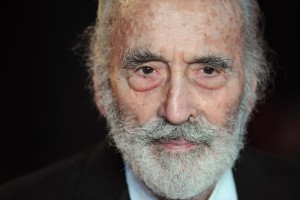 The great Christopher Lee died on June 7, 2015, aged 93.

Aubrey Morris died on July 15 2015 at the age of 89. Best known for his role of the sleazy probation officer P R Deltoid in A Clockwork Orange, he also played the sinister Gravedigger in The Wicker Man (1973) and in Hammer's Blood from the Mummy's Tomb (1971).

Robin Hardy died on 1 July 2016, aged 86. He directed only three other films.
© Derek Winnert 2013 Classic Movie Review 179
Check out more reviews on http://derekwinnert.com/