A Clockwork Orange ***** (1971, Malcolm McDowell, Patrick Magee, Michael Bates) – Classic Movie Review 130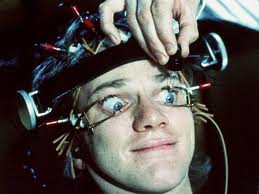 'Is it better for a man to have chosen evil than to have good imposed upon him?'
Based on Anthony Burgess's 1962 modern classic novel, now a provocative school study text as a set book, writer-director Stanley Kubrick's risky 1971 movie boldly steps up to challenge us, make us think and then be judged. An ultra-violent sci-fi black comedy, it is made with breath-taking style and confidence, and realised with impressive turns by the Brit actors.
It opened to a huge public dust-up, debate and scandal, challenging the film censorship of the day, and you can still easily see why. How many films are censored by their own directors? Not many. Kubrick withdrew the film from circulation in Britain after 1973 following threats to his life, though it has always been available in Europe and America. It was finally released in 2000 after Kubrick's death the previous year.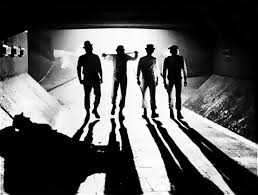 Fortunately or otherwise, it remains, as it was always intended to be, highly controversial. The book courts controversy, but when you put Burgess's story, characters and ideas up on screen you magnify that to the power of, say, ten. And, in a movie, you can also easily look as though you're glorifying the violence you're intending to condemn. Kubrick opens himself to this criticism.
Malcolm McDowell grabs his chance for world stardom and place in movie posterity as the charismatic young delinquent London hoodlum Alex DeLarge – a young man whose principal interests are rape, ultra-violence and Beethoven.
It is set in a desolate and despairing, dystopian, future Britain, where Alex is jailed for delinquency but volunteers for a new aversion therapy that the government has developed to counter the waves of delinquency among the young.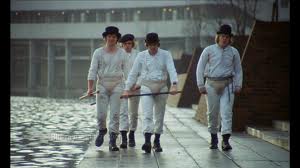 Burgess's book is turned into an astoundingly imaginative, unique cinematic nightmare, with an incisive, dynamic screenplay by Kubrick, making satirical barbs that seem to send out conflicting and confusing messages but are clear enough.
Other than McDowell, it's not really about the performances, but also impressive among the actors are Patrick Magee as Mr Alexander, Adrienne Corri as Mrs Alexander, Michael Bates as the jail's chief guard, Warren Clarke as Dim, Miriam Karlin as Catlady, Aubrey Morris as Deltoid and John Clive as the stage actor. You get the impression that Kubrick, like Hitchcock, had a bit of a love-hate relationship with actors, he didn't fully understand or empathise with them, and that they were a bit of a necessary evil to him.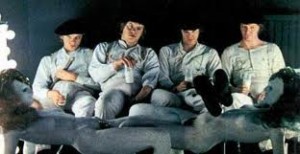 John Alcott's cinematography and John Barry's production designs are important contributions to realising the startling Kubrick vision.
A Clockwork Orange is film to admire, get excited over, get talking about, but hardly one to take to your heart. Kubrick didn't really do warmth. It maintains its youth appeal and bad boy status after all these years, and has become an icon of the culture.
The soundtrack is a big deal in the film. The thugs beating people up to Gene Kelly singing the film soundtrack music of Singin' in the Rain (by Arthur Freed and Nacio Herb Brown) still has its original power to shock and disturb. The electronic music was composed and realised by Carlos. Other music: Beethoven's Symphony No 9, Rossini's The Thieving Magpie and William Tell, Elgar's Pomp and Circumstance, Terry Tucker's Overture in the Sun and Erika Eigen's I Want to Marry a Lighthouse Keeper.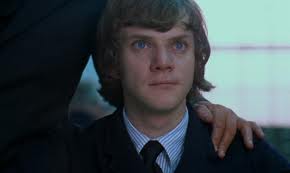 It was made at Pinewood Studios and EMI-MGM Studios, Hertfordshire, both in England, and on location in England. Some filming was done on location at the just-built as yet unopened, Pimlico School in south-west central London, whose brutalist-modernist design fits in perfectly with Kubrick's vision. It was demolished in 2012 to the joy of some of the former pupils who'd gone there and the dismay of others who felt it was a perfect representation of the age.
The New York Film Critics gave it their Best Film and Best Director awards and it won the Best Foreign Film Award at the 1972 Venice Film Festival. Kubrick got three Oscar nominations (for Best Picture, Directing and Adapted Writing), among four nominations, with the fourth for Best Film Editing (Bill Butler), but there were no wins. And there were no Bafta awards (seven nominations) or Golden Globes (three nominations) either.
Rated X in America and later cut to win an R rating. It was originally a certificate X in the UK, then 18 and now 15.

Aubrey Morris died on July 15 2015 at the age of 89. Best known for his role of the sleazy probation officer P R Deltoid, he also played the sinister Gravedigger in The Wicker Man (1973) and in Hammer's Blood from the Mummy's Tomb (1971).
Bill Butler, the British-born film editor who was Oscar nominated for A Clockwork Orange, died on 4 June 2017, aged 83.
© Derek Winnert 2013 Classic Movie Review 130
Check out more reviews on http://derekwinnert.com/