The Sky's the Limit ***½ (1943, Fred Astaire, Joan Leslie, Robert Benchley, Robert Ryan) – Classic Movie Review 5164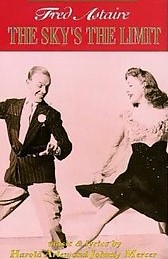 Director Edward H Griffith's skillful and purringly pleasing if minor 1943 RKO musical stars Fred Astaire as Fred Atwell, a Flying Tiger squadron aviator who flies into New York on leave from his squadron's personal appearance tour and promptly falls for pert and pretty magazine photographer Joan Manion (Joan Leslie). The wisp of a plot is that he pursues her in the disguise of a carefree drifter he names Fred Burton.
It was nominated for two Oscars – Best Original Song ('My Shining Hour') and  Best Scoring of a Musical (Leigh Harline). RKO advertised it as 'a thrill, new and gay! It's a dance filled holiday!'
The cast is excellent, and on good form, in this sweet show, with nice tunes by Johnny Mercer (lyrics) and Harold Arlen (music) – 'One for My Baby', 'My Shining Hour', 'A Lot in Common with You' – and great dancing, choreographed by Astaire.
Leslie partners Astaire well, both in the story and in dancing, while Robert Benchley adds extra acting lustre as Leslie's publisher and his after-dinner speech is a highlight.
As so often, a moderate musical is made into engaging and really worthwhile viewing by delightful performances, choreography and score. Sally Sweetland provides the singing voice of Leslie.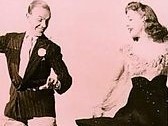 Also in the cast are Robert Ryan, Elizabeth Patterson, Clarence Kolb, Peter Lawford, Marjorie Gateson, Freddie Slack, Eric Blore, Georgia Caine, Jack Carr, Richard Davies, Henri DeSoto, Norma Drury, Neil Hamilton, Al Hill, Olin Howlin, Arthur Stuart Hull, Paul Hurst, Dorothy Kelly, Joseph Kim, Jerry Mandy, Ed McNamara, Frank Melton, Ella Mae Morse, Al Murphy, Clarence Muse, Victor Potel, Rhoda Reese, Dick Rush, Clint Sharp, Ida Shoemaker, Ann Summers, Ferris Taylor and Amelita Ward.
The original screenplay is by Frank Fenton, Lynn Root and S K Lauren.
© Derek Winnert 2017 Classic Movie Review 5164
Check out more reviews on http://derekwinnert.com