The Left Handed Gun ***½ (1958, Paul Newman, Lita Milan, Hurd Hatfield, James Congdon, James Best, John Dehner, John Dierkes) – Classic Movie Review 6413
Gore Vidal's 1955 American TV play The Death of Billy the Kid starred Paul Newman, and he re-creates his role as Henry McCarty (23 November 1859 – 14 July 1881), who called himself William H Bonney, nicknamed Billy the Kid, in this 1958 movie Western under the direction of Arthur Penn in his film début.
In the revisionist Western Freudian story, a gay, mix-up Kid seeks to avenge the death of the cattleman known as The Englishman who befriended and employed him on the four evil  rival cattlemen bad guys responsible.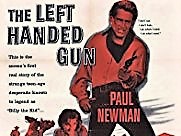 Newman was attacked at the time for relying too much on the Method school of acting, but it seems an attractive, sympathetic performance and John Dehner is notable in support, making a credible Pat Garrett. As a commentator on the Kid's legend, Hurd Hatfield plays Moultrie, the writer who made the Kid a hero but is upset by the killer he finds.
Penn directs sedately and showily which is fine if you can accept the idea of the Western as art movie.
Also in the cast are Lita Milan (who was born Iris Menshell in 1933 in Brooklyn, New York), James Congdon, James Best, John Dierkes, Colin Keith-Johnston, Bob Anderson, Wally Brown, Ainslie Pryor, Martin Garralaga, Denver Pyle, Paul Smith, Nestor Paiva, Jo Summers, Robert Foulk and Anne Barton.
It is written by Leslie Stevens, shot in black and white by J Peverell Marley, produced by Fred Coe, scored by Alexander Courage and designed by Art Loel.
Typically for a revisionist Western, there is little respect for the genre traditions and conventions, or for historical accuracy.
It turns out that the Kid was not left handed after all. In 1986 a reversed image tintype taken in 1880 came to light, which was then reversed to show the Kid as he actually posed, with a Winchester carbine in the left hand and his holstered Colt single-action on his right hip.
It was remade as Gore Vidal's Billy the Kid.
© Derek Winnert 2017 Classic Movie Review 6413
Check out more reviews on http://derekwinnert.com