Bonnie and Clyde ***** (1967, Warren Beatty, Faye Dunaway, Michael J Pollard, Gene Hackman, Estelle Parsons, Denver Pyle, Dub Taylor, Gene Wilder) – Classic Movie Review 848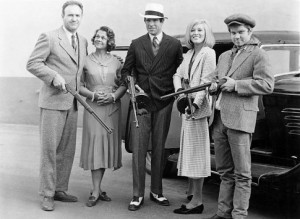 'They're young. They're in love. They rob banks.'  Warren Beatty stars as small-time bank robber Clyde Barrow who joins up with Faye Dunaway as bored small-town waitress Bonnie Parker to embark on a series of violent robberies in the Depression-era American Mid-West. Their legendary crime spree captures the newspaper headlines and catches the imagination of the American public.
Director Arthur Penn's 1967 classic is one of the most memorable icons of Sixties cinema and it is the gangster movie of the era, igniting the box office and reviving a moribund genre. It was a milestone at the time for the depiction of graphic violence on screen, though this is a smokescreen that subtracts from the film's quality and potency.
David Newman and Robert Benton's screenplay is as dazzling as the Technicolor cinematography and as brilliant as the direction. It dares to romanticise the robber-killers as doomed lovers on the run. With the moral values turned upside down, we are put firmly on the side of the outlaws against the law.
Amazingly mesmerising, Beatty and Dunaway give the most thrilling and vivid of portrayals and effortlessly swing the viewer over to their characters' sides. Bonnie and Clyde implicate the audience in their crimes, and subversively turn the relentless lawman who's hunting them down into the villain of the piece.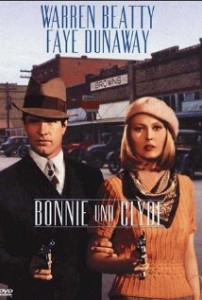 Of course, its extreme anti-authority stance reflects the attitudes of its late-Sixties period of liberation. The film seems to advocate anarchy as much as perhaps true love. But it is placed in a safe long-past setting, the Depression Thirties, as remote and mythical as the classic Western setting it resembles. For all its careful, beguiling Thirties period re-creation, the film is a quasi-Western, a setting where anything goes.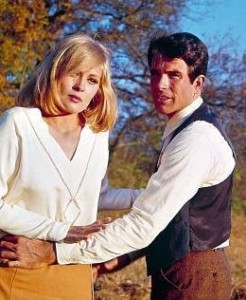 It is easy and way less controversial to assert any extreme values and ideas in an outdated setting. You simply suggest, well, it was the times. Nevertheless, for a mainstream movie, Bonnie and Clyde is quite an eye-opener. As anti-heroes, Bonnie and Clyde are way more out there than, say, Robin Hood. They have their reasons for robbing and killing, but those reasons are not really that justifiable. Mostly, they enjoy it, get a kick out of it.
The movie glamourises robbery and violence, no doubt at all. Bonnie and Clyde are poor, they need money, they go for it. On the other hand, they do get their terrible comeuppance at the end, so the moral values are reasserted.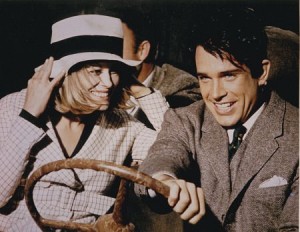 There were ten Oscar nominations, but only Estelle Parsons and Burnett Guffey won for Best Supporting Actress (as Blanche Barrow) and Best Cinematography respectively. The extraordinary, wildly charismatic, yet subtle performances of Beatty and Dunaway were overlooked, and so were Gene Hackman's as Buck Barrow and Michael J Pollard's as C W Moss.
Other memorable portrayals come from Denver Pyle (dogged lawman Frank Hamer), Dub Taylor (Ivan Moss) and Gene Wilder (Eugene Grizzard). Ironically, of all the actors, it seemed to help Parsons's career least, while it was the foundation of Hackman's fine career and Wilder scores strongly in his movie debut.
It is a film that beguiles and persuades in every aspect, not only the performances and the screenplay, but also the Depression-era atmosphere and awesome Mid-West locations, Guffey's superb photography, Dean Tavoularis's meticulous art direction and Penn's commanding direction.
Mitch Murray wrote The Ballad of Bonnie and Clyde and Lester Flatt and Earl Scruggs penned Foggy Mountain Breakdown.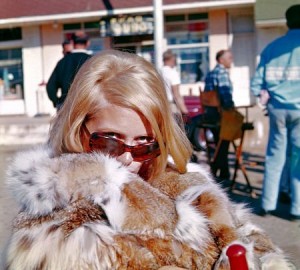 Jane Fonda admitted in 2012 that she auditioned for Bonnie and was still upset at losing it to Faye Dunaway, ending rumours that she had turned down the role.
A 2013 miniseries revisits the story, and stars Emile Hirsch as Clyde and Holliday Grainger as Bonnie.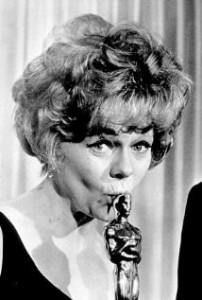 In 2014, Warren Beatty's most recent film was Town & Country (2001) but he came back with Rules Don't Apply in 2016. Dunaway plays Maria Callas in Master Class (2015) and she is directing it too., and made three films in 2017 Hackman announced his retirement from acting after Welcome to Mooseport in 2004. Estelle Parsons is still busy on TV and stage.
Hackman reunited with Penn in 1975 for Night Moves.
© Derek Winnert 2014 Classic Movie Review 848
Check out more reviews on http://derekwinnert.com/