The Godfather: Part II ***** (1974, Al Pacino, Robert De Niro) – Classic Movie Review 3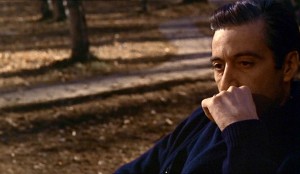 'Keep your friends close and your enemies closer.'
Part II of The Godfather starts in Lake Tahoe, Nevada, in 1958, with the tormented Michael Corleone (Al Pacino) now head of the 'family', having inherited the entire Mafia empire from his father Don Vito.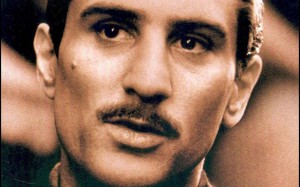 He attempts to deal with many personal and professional problems, including trying to take advantage of opportunities in pre-revolutionary Cuba, but his main preoccupation is the legitimisation of the Corleone 'business' in keeping with the more modern gangster image of the age, hoping that Hollywood and the rise of Las Vegas will be his family's salvation.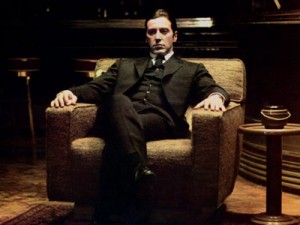 Francis Ford Coppola's awesome six-Oscar-winning Mafia movie is a more than worthy successor to his 1972 original, pulling off the difficult trick of being both a sequel and a prequel and yet a great movie in its own right. Again, Coppola and original author Mario Puzo have carved out a brilliant screenplay from the latter's novel. And once again it's a beautifully crafted movie, with wonderful behind-the-scenes work from the best in the business – cinematographer Gordon Willis, composer Nino Rota and designer Dean Tavoularis.
And once more the performances are scintillating – Pacino as the troubled but ruthless mob boss Michael, John Cazale as the passed-over brother Fredo, Actors' Studio founder Lee Strasberg as the rival Jewish mobster Hyman Roth, Michael V Gazzo as Frankie Pentangeli and especially Robert De Niro, who scooped a best supporting actor Oscar for his electrifying appearance as the young Vito.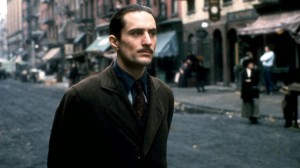 Ironically or rather fittingly, De Niro bursts onto the screen like a young Marlon Brando. Also, as before, Robert Duvall (excellent as Tom Hagen the Godfather's consigliere, or legal adviser), Talia Shire as sister Connie and Diane Keaton as wife Kay aren't at all behind in the acting honours, far from it.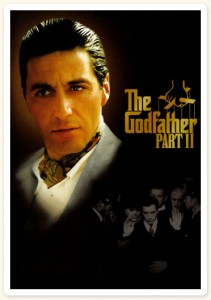 It was a special triumph that both Godfather films took their year's best picture Oscar – and this one also won Academy Awards for director, supporting actor, adapted screenplay, score and art direction-set decoration. Arguably even greater than Part One, it's one of the key films of the 70s and the only sequel ever to win a best picture Oscar. In 1978 Coppola spliced together the two films and added out-takes for the re-edited, linear, 410-minute version, known as The Godfather Saga or The Complete Godfather Epic 1902-1958.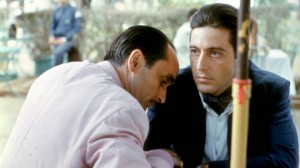 Pacino was only nominated for the Best Actor Oscar but was compensated when he won the Bafta award for Best Actor for this and Dog Day Afternoon.
The Godfather: Part III followed in 1990.
http://derekwinnert.com/the-godfather-classic-film-review-2/
http://derekwinnert.com/the-godfather-part-iii-classic-film-review-28/
(C) Derek Winnert 2013 Classic Movie Review 3
Link to Derek Winnert's home page for more film reviews: http://derekwinnert.com/