The Godfather: Part III ****½ (1990, Al Pacino, Andy Garcia, Talia Shire, Diane Keaton, Eli Wallach, Joe Mantegna, Sofia Coppola, Raf Vallone, Donal Donnelly) – Classic Movie Review 28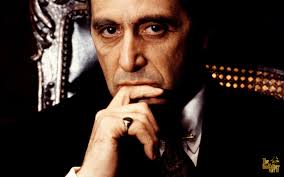 There were considerable mumblings of disappointment at this 1990 final part of the Godfather saga, and it certainly isn't quite the triumph of the first two movies. But Francis Ford Coppola still manages to astonish again in this rather splendid grand finale to the gangster tragedy that is Shakespearean in its ambitions and not too far short in its achievements.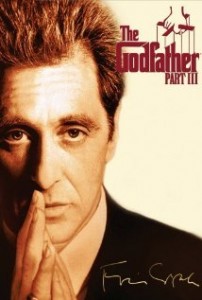 A startlingly grey, haggard and haunted-looking Al Pacino impresses once more in this middle-aged updating of his role as the Godfather, Michael Corleone, now in 1979 trying to go straight by conducting only legitimate business, but, inevitably, reluctantly being pulled back into 'family business', with tragic consequences. He is astonishingly convincing and powerful as the ageing, blank-eyed Mafia boss, irreparably corrupted by the power of his position and his past deeds.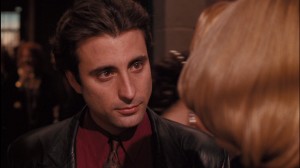 Andy Garcia is outstanding too as his bright but hot-headed young nephew, Vincent Mancini, whom he starts to mould into his Mob protégé and eventual successor, while Talia Shire is a firecracker, coming on as a real Lady Macbeth as the Godfather's increasingly powerful, conniving and unhinged sister Connie.
The increasingly tense build-up to the climax is punctuated by scenes of suspense, brilliant set pieces and bursts of violence as the tragedy works its devious way to a dazzlingly orchestrated suspense climax at the Teatro Massimo opera house in Palermo, Sicily. It seems to go on for ever, completing the Godfather trilogy in the most astounding display of fireworks.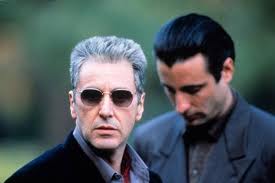 When Winona Rider pulled out at the last minute from the major role of Pacino's daughter Mary, the director caused controversy by replacing her with his inexperienced daughter Sofia Coppola, and she gathered appalling, abusive flack for her acting, but she is plenty good enough. Her girlish inexperience and innocent appeal work well with the character, keeping it well away from the kind of actressy performance a more established actress might have offered.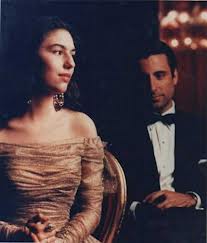 However, the lack of Robert Duvall as Tom Hagen the Godfather's consigiliere, or legal adviser, is a considerable drawback, and George Hamilton's B J Harrison character is insufficient substitute, especially as he has so little screen time, his role apparently cut. Otherwise, there are signs that Hamilton might have been quite good.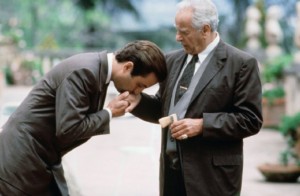 Eli Wallach has a satisfying role as the candy-addicted mobster Don Altobello. He may not be very Italian, but he is very good. Also in the cast are Franc D'Ambrosio as the opera-singing Anthony Vito Corleone, Donal Donnelly (outstanding as the chilling Archbishop Gilday), John Savage, Richard Bright, Al Martino, Raf Vallone (1916–2002) excellent in the key role of Cardinal Lamberto, Mario Donatone, Franco Citti, Vittorio Duse, Helmut Berger and John Albineri.
Quibbles apart, The Godfather: Part III is a worthy successor to the first two films.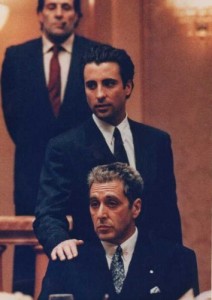 The video version 'Director's Cut' is re-edited by Coppola and restores nine minutes of the original footage. It was said to be the first film to cost $100 million, $55 million for the budget and the rest for advertising and promotion: to date it has only raised $135 million at the box office, though TV and DVD sales may have put it in profit. Coppola and author Mario Puzo were working on a Part 4, a plan stopped by the latter's death in 1999.
There were seven Oscar nominations and seven Golden Globe nominations, but unfairly no wins at all.
Sofia Coppola won two Razzies for Worst Supporting Actress and Worst New Actress – how mean is that? She had the last laugh, going on to an impressive career as writer-director.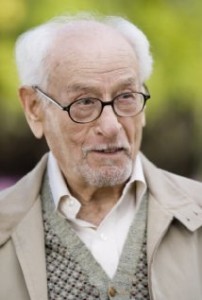 Eli Wallach died on 24 June 2014 aged 98. Wallach, who won a Tony Award in 1951 for playing Alvaro in Tennessee Williams's original production of The Rose Tattoo, made his movie debut as a cotton-gin owner trying to seduce a virgin in Elia Kazan's Baby Doll (1956) and carried on working well into his nineties.
http://derekwinnert.com/the-godfather-classic-film-review-2/
http://derekwinnert.com/the-godfather-part-ii-classic-film-review-3/
(C) Derek Winnert 2013 Classic Movie Review 28
Link to Derek Winnert's home page for more film reviews: http://derekwinnert.com/