The Giant of Metropolis [Il gigante di Metropolis] * (1961, Gordon Mitchell, Bella Cortez, Roldano Lupi) – Classic Movie Review 6108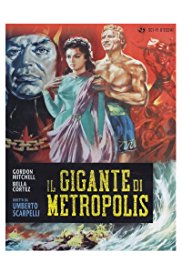 Perfectly developed bodybuilder Gordon Mitchell from Denver, Colorado, stars as muscleman Ohro, who goes to the capital of Atlantis to attack its godlessness and battles its evil lord Yoh-tar (Roldano Lupi), in director Umberto Scarpelli's mediocre if colourful 1961 Italian fantasy adventure.
After Steve Reeves's Hercules (1958) was such a huge hit, reviving the muscleman genre, the non-Italian-speaking Mitchell went to Italy in 1961 and began appearing in the same type of badly dubbed sandal-and-spear epics.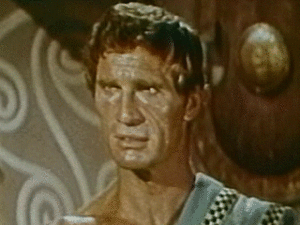 The 6′ 3″ Mitchell (real name Charles Allen Pendleton) recited bawdy limericks performing his scenes instead of the Italian dialogue, which was dubbed in later. To be fair, even so he is still adept at showing off the heroics.
He started off in extra work in The Man with the Golden Arm and Cecil B DeMille's The Ten Commandments, and Mae West chose him to appear in her nightclub act. He died of a heart attack on 20 
© Derek Winnert 2017 Classic Movie Review 6108
Check out more reviews on http://derekwinnert.com