The Man with the Golden Arm **** (1958, Frank Sinatra, Eleanor Parker, Kim Novak, Arnold Stang, Darren McGavin, Robert Strauss, Doro Merande) – Classic Movie Review 4722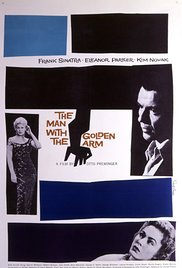 Producer-director Otto Preminger's then controversial 1958 noirish drama stars Frank Sinatra, who was Oscar-nominated Sinatra for his forceful and persuasive performance as drug addict Frankie Machine, the weak-willed Chicago card dealing gambler who tries to break his addictive drug habit with the help of his girlfriend Molly (Kim Novak). The controversy was over the film's serious, in-depth treatment of what was a taboo subject of drug addiction.
Screen-writers Walter Newman and Lewis Meltzer (plus an uncredited Ben Hecht) based the script on the 1949 novel by Nelson Algren, which throws in a murder plot concerning Sinatra's handicapped wife, Zosh Machine (Eleanor Parker). Darren McGavin plays Louie, the man who pushes the drugs to Sinatra's character.
Algren and Preminger fell out when they were working on the screenplay, and Algren was replaced by Newman, who with Preminger made significant changes to Algren's story. The film was released as A Film By Otto Preminger, prompting Algren to try to sue.
Hollywood's first film about narcotics abuse now seems frenzied and over the top, but Sinatra's performance, the cold turkey sequences, Elmer Bernstein's jazz music score and Saul Bass's credits still deliver a lot of impact.
The Motion Picture Association of America would not give it a certificate so it was left to US state censors to license it, and most of them did. The film finally received the Production Code seal in June 1961, allowing it to be reissued and sold to TV.
Kinskey returned to the screen after a long gap as the doctor treated Sinatra's drug-addicted character. Also in the cast are Arnold Stang, Darren McGavin, Robert Strauss, Doro Merande, John Conte, George Mathews, Emile Meyer and George E Stone.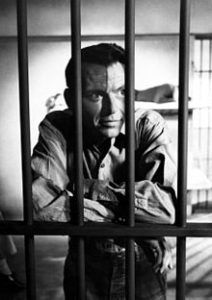 There were three Oscar nominations: Sinatra for Best Actor, Joseph C Wright and Darrell Silvera for Best Art Direction-Set Decoration, Black-and-White, and Elmer Bernstein for Best Scoring.
The drug is not identified in the film, but most people assume that it is heroin, though Algren's book names it as morphine.
Preminger opined: 'I think there's a great tragedy in any human being who gets hooked on something, whether it's heroin or love or a woman or whatever.'
Sinatra observed addicts going cold turkey at drug rehabilitation clinics and learned to play drums with drummer Shelly Manne.
© Derek Winnert 2016 Classic Movie Review 4722
Check out more reviews on http://derekwinnert.com