Cleopatra ***** (1963, Elizabeth Taylor, Richard Burton, Rex Harrison, Pamela Brown, George Cole, Hume Cronyn, Martin Landau, Roddy McDowall, Robert Stephens) – Classic Film Review 37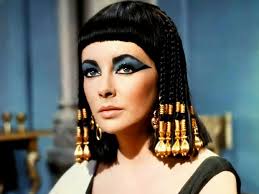 Joseph L Mankiewicz's 1963 epic was more famous as a media event than a movie – it's the moment when Elizabeth Taylor met Richard Burton, creating an unprecedented media storm that helped create the modern cult of celebrity– and for its outrageous extravagances that nearly sunk its film studio 20th Century Fox.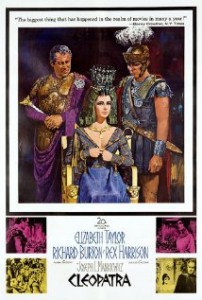 Today, the film's comfortably in profit, refurbished astoundingly beautifully and re-released in 2013 for its 50th birthday, and a nice little earner for Fox. And now we can see it for what it is, a vastly over-inflated, uneven but utterly spectacular and thoroughly enjoyable trip up the Nile, an exhausting, incredibly over-long marathon, but well worth the trip.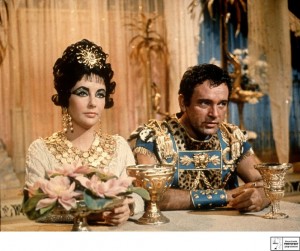 It's graced with a top-notch performance by Rex Harrison, speaking his more than passably witty lines with conviction as a cool and calculating Julius Caesar, and admirable ones from Taylor and Burton. Then there's strong backup for the stars from a clutch of classy support turns led by Roddy McDowall's camp ruler Octavian, Martin Landau's Rufio and Robert Stevens's Germanicus.
Also notable among the huge cast of characters are Gwen Watford's Calpurnia, Jean Marsh's Octavia, Richard O'Sullivan's Ptolemy, Pamela Brown's high priestess, John Hoyt's Cassius and Kenneth Haigh's Brutus.
Also in the cast are George Cole as Flavius, Douglas Wilmer as Decimus, Hume Cronyn, Cesare Danova, Andrew Keir, Francesca Annis, Michael Hordern, Carroll O'Connor, Herbert Berghof, Grégoire Aslan, Martin Benson, John Cairney, Jacqui Chan, Isabel Cooley, John Doucette. Andrew Faulds, Michael Gwynne, Marne Maitland, Ronald Allen, John Alderton, Finlay Currie, Jeremy Kemp, Desmond Llewelyn, Laurence Naismith and Marina Berti.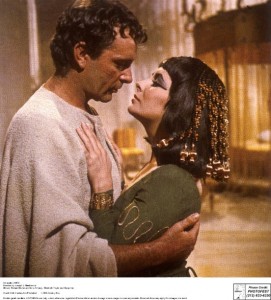 The first half of the four-hour movie, right almost up to the Intermission, is all Harrison. He seizes his opportunity with obvious relish, upstaging the other two stars: he was too canny to let this opportunity slip through his fingers. The film definitely takes a dip after his departure and the second half may be more spectacular and more romantic, but it isn't quite as good.
Making her entrance 20 minutes in, a superb-looking Taylor, throughout the movie in more eye makeup than is really seemly, brings the right statuesque beauty and imperiousness to Cleopatra, while, as Marc Antony, appearing after an hour, Burton makes a decent job of portraying a dashing but troubled man of action dwarfed by Caesar and overwhelmed by Cleo.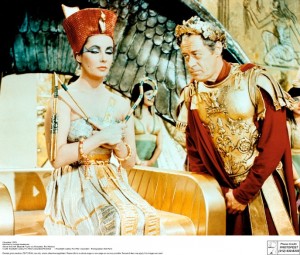 With his chunky, manly, rugged physique, he looks just right as the soldier Antony, convincing in a short tunic. Most actors wouldn't fit this bill at all. As actor, he often tends to declaim, rather than speak his lines, as though he's in a huge theatre instead of on camera. As Harrison could have shown him, less is more on screen.
Mankiewicz's ambitious, literate, coherent script, written and re-written nightly under the great duress of expensive filming in Rome, covers the extensive ground extremely intelligently and is a considerable, often neglected achievement. If some lines of dialogue and plotting fall slightly flat, the best of the screenplay is very good indeed. Based in part on C M Franzero's novel The Life and Times of Cleopatra, it's way better than expected, and stands up to scrutiny and admiration 50 years later.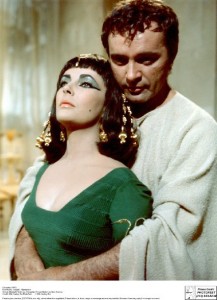 Satisfyingly, a lot of the film's ludicrous cost is up there on screen in the vast, impressive sets and the film's eye-catching set-pieces, particularly the Queen's arrival in Rome and the Battle of Actium. Indeed, most of the visuals are simply astounding, the crowd scenes, the armies, the period buildings, the ships etc.
The set designs (by John DeCuir, Jack Martin Smith, Hilyard Brown, Herman Blumenthal, Elven Webb, Maurice Pelling, Boris Juraga) are a series of amazing triumphs and the costumes by Irene Sharaff and Vittorio Novarese are a remarkable feast for the eyes. Taylor shows off an immense number of eye-catching frocks, it starts to look like a vintage fashion parade.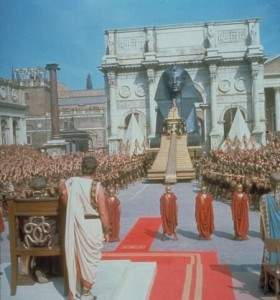 [Spoiler alert} In the final stages, when audience fatigue is at its greatest, all attention is on the fate of the doomed lovers and first Anthony, then Cleopatra take a heck of a long time dying. Grab that knife boy, grab that asp, girl! Finally they do, and they go in style.
There were many epics around this time in the 60s, but, for the pre-CGI era, this is pretty much the epic to end all epics. It's amazing it still impresses quite so much. They don't make them like this any more. Some will say, 'thank God', others will say 'Shame'.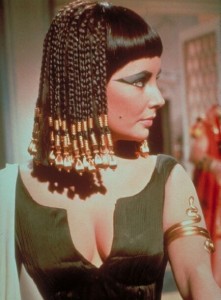 The film, first planned with Joan Collins in 1958, was begun in London in 1960 under director Rouben Mamoulian, with Peter Finch and Stephen Boyd. The first star to earn $1million, Taylor was said to have battled flu, her weight, the director and Finch's performance, and finally was taken off to hospital for a life-threatening tracheotomy. You can see her scar clearly visible in the film. Filming eventually resumed with the new cast, director and script in Rome in 1962, filming at the Cinecittá studios.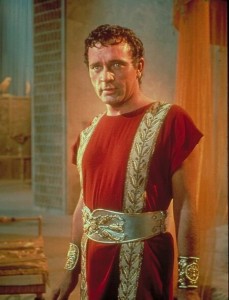 Fortunately, the public liked it: the most expensive film ever (in inflation-adjusted real terms) made eventually made a profit. There were four technical Oscars, for Leon Shamroy's lovely colour cinematography, costumes, Emil Kosa Jr's special visual effects and art direction-set decoration, but no acting awards (though Harrison was nominated, the other two stars were noticeably not).
The 2013 release is the refurbished original roadshow version with its music soundtracks and Intermission and runs 248 minutes. Cut versions run at 222 minutes and 192 minutes. Director's cut: 320 minutes.
The Carry On team spoofed it hilariously in Carry On Cleo (1965), using the sets they abandoned at Pinewood studios when filming moved to Cinecittá in Rome.
Cole and Wilmer starred together in The Vampire Lovers (1970).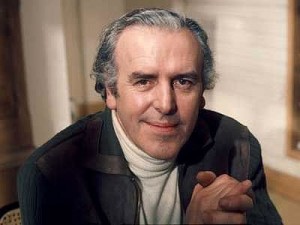 George Cole died on August 5 2015, aged 90. Adieu, dear departed.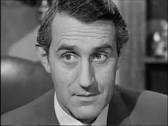 Douglas Wilmer died on 31 March 2016, aged 96. Adieu, dear departed.
http://derekwinnert.com/carry-on-cleo-1965-sid-james-joan-sims-amanda-barrie-jim-dale-classic-film-review-1133/
© Derek Winnert 2013 Classic Movie Review 37
Link to Derek Winnert's home page for more film reviews: http://derekwinnert.com/