The 39 Steps ***** (1935, Robert Donat, Madeleine Carroll, Lucie Mannheim, Godfrey Tearle, Wylie Watson, John Laurie, Peggy Ashcroft, Helen Haye, Miles Malleson) – Classic Movie Review 119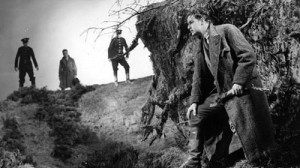 Alfred Hitchcock's 1935 freewheeling version of the 1915 espionage novel by John Buchan is a most beguiling romantic-comedy spy thriller. It rattles along its cast-iron tracks in a luxury-class ride. Directed with the greatest brio, pace and imagination, this Thirties British classic justifies its reputation with dialogue that crackles and acting that is a benchmark for alluring style.
Robert Donat is wonderfully suave and assured as Richard Hannay, a Canadian visitor to London. He's the quintessential innocent hero running for his life from both a nest of spies and the forces of the law after the murder of a young mystery woman, 'Miss Smith' (Lucie Mannheim), in his London flat. The police think he's done it, the spies know he hasn't but need to kill him anyway.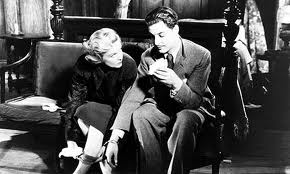 As the going gets tough, Hannay gets involved with a reluctant Pamela (archetypal ice-cool blonde Madeleine Carroll), taking her prisoner to guarantee his safety. Then he gets provocatively, and fetishistically, handcuffed to Carroll – very saucily for the day, even in bed. And Carroll proves every inch Donat's match for confident, graceful acting. For a while, she doesn't believe he's innocent, but eventually succumbs to his charms and credibility. Well, he's the hero, isn't he?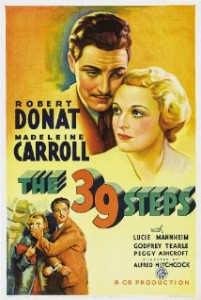 Despite the dark, dangerous and disturbing events the story chronicles, the surface mood is jaunty and jolly, but the film has a disturbing undercurrent of betrayal, death and chaos.
It's one long ride of famous key Hitchcock moments: gunfire and panic at the theatre, the London Palladium climax, the revelation of the missing finger of the villain, Professor Jordan (Godfrey Tearle), the steam train chase on Edinburgh's Forth Rail Bridge, the crucial stage act of Mr Memory (Wylie Watson), a sudden stabbing, a weird, jealous Scots crofter (John Laurie) and his helpful much younger wife (Peggy Ashcroft), the hero and reluctant heroine sharing apparently unwanted intimacies in a hotel room, and so on.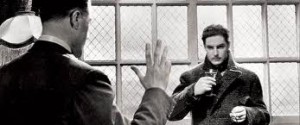 Hitchcock obviously liked The 39 Steps and revisited the film's themes and style for his 1959 American classic North by Northwest, trying to improve on them with his big Hollywood budget. In some ways he succeeded, but in another sense The 39 Steps is an incomparable marvel.
Hitchcock is the master showman and puppet master here, but we should name check writers Charles Bennett (who adapted the novel) and Ian Hay (who provided the dialogue) for their dazzlingly adroit screenplay. Hitchcock and his wife Alma Reville also worked on the screenplay, as usual.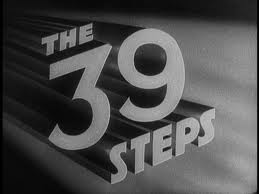 As the music hall announcer, esteemed character actor and screenwriter Miles Malleson gets two lines at the end as the Palladium manager and no credit after it. Hitchcock makes his traditional cameo appearance, cynically throwing litter by the music hall.
Also in the cast are Helen Haye, Frank Cellier, Gus MacNaughton, Jerry Verno, Peggy Simpson, Ivor Barnard, Wilfrid Brambell, Pat Hagate, Elizabeth Inglis, Frederick Piper, Hilda Trevelyan and John Turnbull.
Hitchcock explained: 'I am out to give the public good, healthy mental shake-ups. Civilisation has become so screening and sheltering that we cannot experience sufficient thrills at first hand. Therefore, to prevent our becoming sluggish and jellified, we have to experience them artificially.'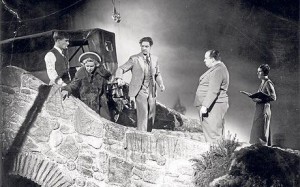 It was re-released in cinemas in a lovely restored new 35mm print in 1999 as part of the celebrations for the centenary of Hitchcock's birth.
Remade in 1959 with Kenneth More, again in 1979 with Robert Powell and as a BBC TV movie in 2008 with Rupert Penry-Jones as Hannay.
http://derekwinnert.com/north-by-northwest-classic-film-review-4/
http://derekwinnert.com/strangers-on-a-train-classic-film-review-68/
http://derekwinnert.com/to-catch-a-thief-classic-film-review-443/
© Derek Winnert 2013 Classic Movie Review 119 derekwinnert.com
Link to Derek Winnert's home page for more film reviews: http://derekwinnert.com/