The Thirty-Nine Steps **** (1978, Robert Powell, Karen Dotrice, John Mills, Eric Porter, David Warner, George Baker, Ronald Pickup, Timothy West) – Classic Movie Review 4491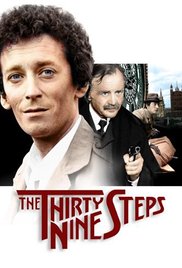 Director Don Sharp's extremely entertaining 1978 third film version of John Buchan's novel finds its purpose in that it is finally a movie that is faithful to the book and its pre-First World War setting.
Director Don Sharp comes up with a ripping yarn that is complementary to the 1935 Alfred Hitchcock classic The 39 Steps, though without however still quite delivering its style and wit. Cool, aloof and reserved, Robert Powell makes a most effective Richard Hannay, the innocent man pursued by the bad guys who think that he knows of their plan to start the First World War. There is a stalwart British cast who give sterling support, the pace is deliciously fast and relentless, and both the mood and tone are exactly right.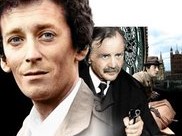 Naturally, John Buchan's classic 1915 espionage novel plot still delivers the goods, and there is a richly enjoyable, well-staged action finale in London, though it is on the 16-storey Gothic clock tower at the eastern end of the Houses of Parliament instead of at the London Palladium Theatre as in the Hitchcock. It's all very tense and suspenseful in the right spirit.
All in all, you could not expect more from a Seventies remake of a Hitchcock vintage classic.
It also stars Karen Dotrice, John Mills as Colonel Scudder, Eric Porter, David Warner, George Baker as Sir Walter Bullivant, Ronald Pickup and Timothy West.
Also in the cast are Donald Pickering, Andrew Keir, Robert Flemyng, Miles Anderson, William Squire, Paul McDowell, David Collings, John Normington, John Welch, Edward de Souza, Tony Steedman, John Grieve, Andrew Downie, Donald Bisset, Derek Anders, Oliver Maguire, Joan Henley, Prentiss Hancock, Leo Dolan, James Garbutt, Artro Morris, Robert Gillespie, Raymond Young, Paul Jerricho and Michael Bilton.
It was remade again as a BBC TV movie in 2008 with Rupert Penry-Jones as Hannay.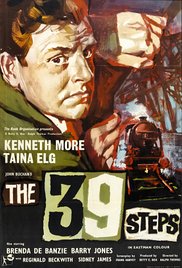 Kenneth More does nicely in a smooth turn as Richard Hannay in the 1959 The 39 Steps.
© Derek Winnert 2016 Classic Movie Review 4491
Check out more reviews on http://derekwinnert.com